4 of NASA's Perseverance Rover's Records Set On Mars So Far
28th Sep 2023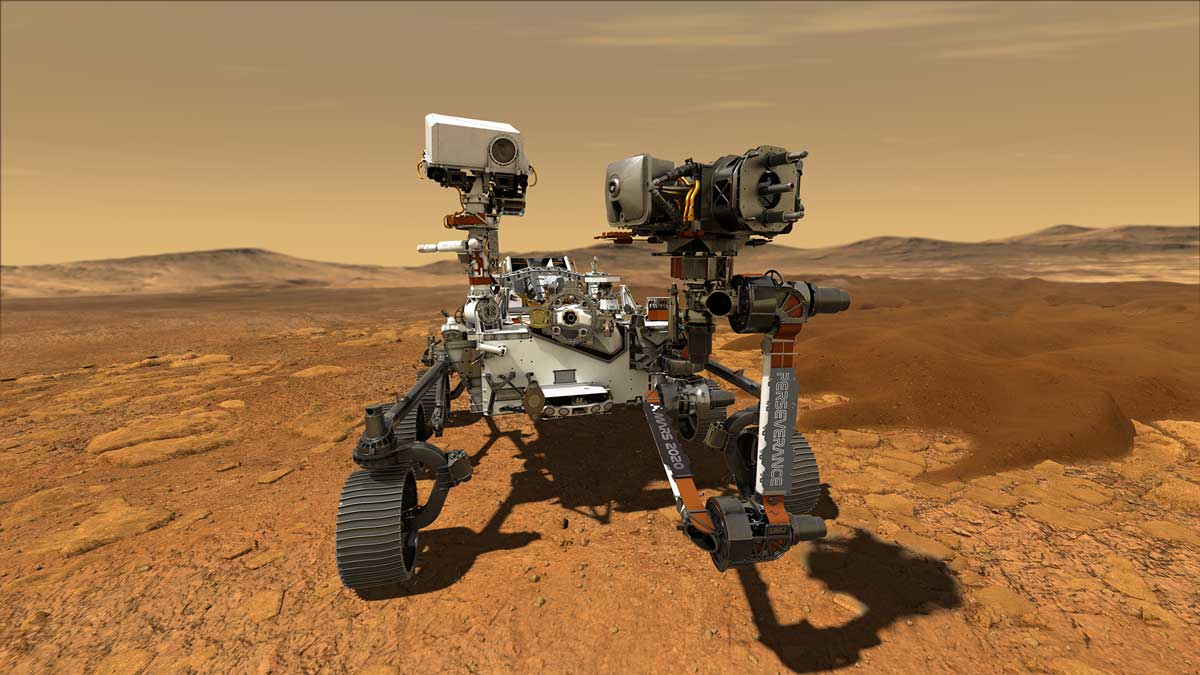 NASA's Perseverance rover has achieved some impressive feats since its historic landing on Mars's Jezero Crater on 18th February 2021. The car-sized robot has covered thousands of feet in distance and has snapped more than 100,000 photos of the Red Planet on its journey so far. Besides creating a visual diary for us to see, it has also collected six samples from Mars's surface, which will be returned to Earth in the future for thorough research. Let's look at all of the Perseverance rover's records set on the Red Planet so far.
What is NASA's Perseverance Rover?
Perseverance is a part of NASA's Mars 2020 mission. The machine comes with tools like SHERLOC (Scanning Habitable Environments with Raman and Luminescence for Organics and Chemicals) and PIXL (Planetary Instrument for X-ray Lithochemistry) that help us understand Mars rocks and, through it, the planet's history. The Perseverance rover is mainly looking for clues of ancient life forms and is also checking the weather patterns on the planet to determine how it used to be.
Perseverance has set out a number of records along its patch, and its achievements light the way for future missions. As we dive into what the rover has been up to on Mars, we find an important list of milestones that are reshaping our understanding of space.
Perseverance rover's record for the Longest Drive in a Martian Sol
Back in 2005, NASA's Opportunity rover made headlines with an impressive 722-foot (220-meter) drive in a single day. It held the title for years and was deemed a lasting achievement by many top scientists, that is, until last week, when Perseverance Rover surpassed it. Perseverance is breaking the limitations of Mars exploration and has set a new record for off-roading, including an outstanding 1,140.7 feet (347.7 meters) drive in just one day. This was all made possible thanks to its AutoNav system and dual-brain smarts.
The Longest Drive on Autopilot on the Martian Surface
Guided by its automatic navigation system AutoNav, NASA's Perseverance rover has also completed the longest autonomous drive on Mars. Perseverance now has the record for the longest Martian drive without any human intervention, covering an impressive 2,296.2 feet (699.9 meters) in a sol. The rover's success in navigating the tough terrains alone marks another historic milestone.

First Rover to Record a Martian Dust Devil
In late September 2021, NASA's Perseverance rover achieved another remarkable feat on the 215th Martian day of its mission by recording the sound of a Martian dust devil. It used its SuperCam microphone to record this event, and this was the first time something like this had ever been sent to Earth. The dimensions of the dust devil were estimated to be 25 meters wide and 120 meters tall, and it was traveling at a speed of about 19 kmph. This discovery helps us better understand Mars' weather patterns and establishes Perseverance as a leader in this domain.
First Rover to Collect Samples of Martian Rock and Atmosphere
One of the Perseverance rover's achievements is that it is the first rover to collect samples from Mars and has collected 18 samples so far from the Martian surface and atmosphere. This record shows the engineering capabilities of Perseverance compared to other rovers and has set new standards for any future missions. These samples are due to return to Earth someday for further study, giving us valuable insights for future scientific discoveries.