Bezos' Blue Origin Says Goodbye To CEO Bob Smith – Who Will Replace Him?
28th Sep 2023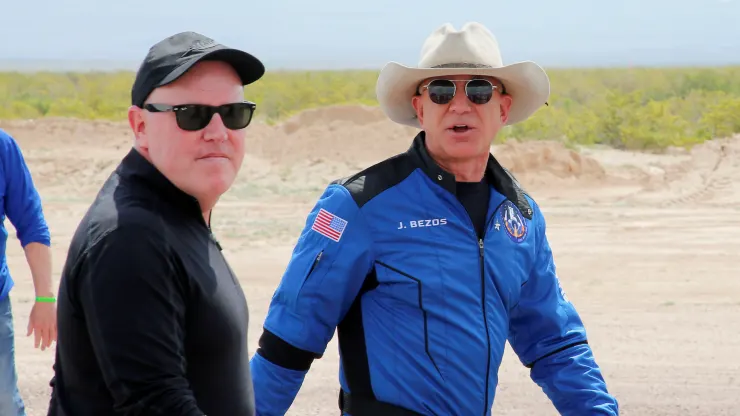 Jeff Bezos' space company, Blue Origin, has announced the appointment of their new CEO. Outgoing Chief Executive, Bob Smith, will be replaced with ex-Amazon executive, Dave Limp, after Smith announced his retirement effective from December 2023. Smith will remain at Blue Origin until 2nd January to assist in the CEO changeover. Limp will be in charge of all current and future Blue Origin projects – including the space tourism rocket, New Shepard, their New Glenn rocket, and the NASA Artemis Lander contract. 
In a statement to Blue Origin employees – obtained by CNBC – Bezos said: "I'm excited to share that Dave Limp will join Blue starting December 4th as CEO, replacing Bob, who has elected to step aside on January 2. The overlap is purposeful to ensure a smooth transition. I've worked closely with Dave for many years. He is the right leader at the right time for Blue."
Who is Dave Limp, Blue Origin's New CEO?
Prior to taking the reins of Blue Origin, Dave Limp was the Chief of Devices and Services at Amazon. He was instrumental in the creation of Amazon's flagship products: virtual assistant, Alexa, and doorbell system, Ring.
Before the change in CEO news broke, Limp announced that he was stepping down from Amazon in August, keeping tight-lipped about his Blue Origin appointment. While Limp's role at Amazon wasn't space-driven, he did play an active role in the satellite connectivity constellation, Project Kuiper.
What are the reasons behind Bob Smith's resignation?
When Bob Smith took the helm at Blue Origin in 2017, expectations were high. The company, founded by Amazon's Jeff Bezos, was on a mission to become a dominant force in the space industry. However, Smith's tenure as CEO was marked by a series of challenges that impacted the company's progress.
One of the notable achievements during Smith's leadership was the successful flight of the New Shepard rocket in July 2021, which carried Jeff Bezos and a crew to the edge of space. It was a significant milestone for Blue Origin that captured the world's attention.
Yet, despite such high-profile successes, significant delays and setbacks plagued the company's major projects under Smith's guidance.
The New Glenn rocket and BE-4 rocket engines
The New Glenn rocket, touted as one of Blue Origin's flagship programs, suffered from years of delays. In 2020, Blue Origin faced a setback when it lost out on a valuable round of Pentagon launch contracts.
Similarly, the BE-4 rocket engines, crucial not only for Blue Origin but also for United Launch Alliance's Vulcan vehicle, also fell behind schedule.
In July, Blue Origin's BE-4 rocket engine firing test ended in disaster, when it exploded 10 seconds after it ignited. Consequently, the subsequent damage delayed the engine's use on the United Launch Alliance Vulcan rocket. New Shepard also experienced an inflight anomaly that saw the propulsion system damaged. As a result, the rocket was grounded for nine months while engineers completed repairs. A review found that the engine nozzle's temperatures exceed New Shepherd's design.
Lunar Lander
Earlier this year, Blue Origin secured a $3.4 billion NASA contract to build a lunar lander for the agency's astronauts. However, this contract win followed a contentious dispute with SpaceX over a previous lunar lander contract, which Blue Origin contested in federal court and ultimately lost.
Internal issues
Also, Blue Origin faced internal issues. Current and former employees raised allegations of a toxic and sexist workplace culture, resulting in an elevated turnover rate in 2021. CEO Bob Smith addressed these claims by emphasizing the company's commitment to a discrimination and harassment-free workplace.
Despite these challenges, Blue Origin has undergone significant growth, with its workforce expanding from around 4,000 to over 10,000 employees in just two years, as highlighted by Jeff Bezos.

Blue Origin: Current projects
Blue Origin has many upcoming projects in the pipeline, including the resumption of New Shepard space tourism flights. After a lengthy hiatus, Blue Origin has carried out all necessitated repairs and is awaiting confirmation of permission to resume from the Federal Aviation Authority. 
Another project within Blue Origin's remit is the lander for NASA's Artemis moon exploration mission. Blue Origin is currently designing and developing the Blue Moon Human Landing System after winning the US$3.4 billion contract.