Starlink in India: ready to launch
2nd Sep 2023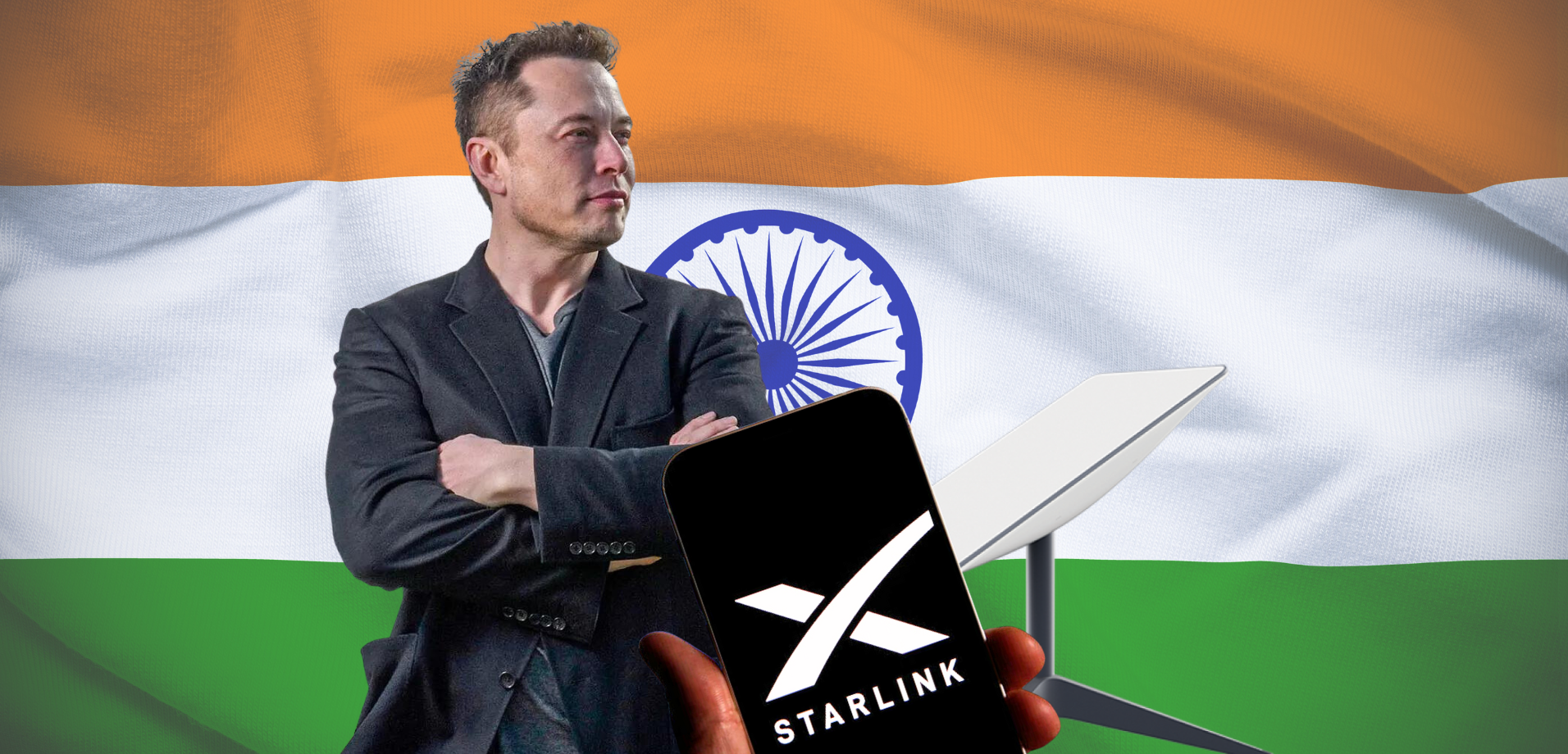 In 2020, Starlink burst onto the global telecoms market. Today, fast and relatively cheap satellite internet is already available in the UK, USA, more than 50 other countries and continues to expand ni coverage.
As for now, Starlink is not yet available in India. In this article, you will learn what has prevented the company from conquering the Indian market so far, when it will happen, and how much will Starlink cost in India.
What is Starlink: a short overview
Starlink is a satellite Internet constellation being developed and deployed by SpaceX, a private aerospace company founded by Elon Musk. The goal of Starlink is to provide global broadband internet coverage, especially in remote and underserved areas where traditional Internet infrastructure is difficult to establish.
The constellation consists of thousands of small satellites in Low Earth Orbit (LEO) at an altitude of about 400 km. The satellites communicate with ground stations and user terminals to deliver Internet access at a speed of up to 100 Mbps with a latency of less than 20 milliseconds.
Starlink in India: the hard path in detail
The history of Starlink in India began in February 2021. At that time, the service already had over 100,000 subscribers in the US, UK, and Canada, whereas India was identified as a priority country for further expansion. The main reasons to expand to India are:
numerous population,
many remote areas without Internet coverage,
India's readiness to introduce new technologies.
In addition, according to the World Bank report, a 10% increase in India's broadband coverage could contribute to a 1.38% increase in GDP, so Starlink's entry into the Indian telecommunications market was expected to be quick and unproblematic.
In late February 2021, SpaceX opened the Starlink beta pre-order sale in India for a fully refundable deposit of $99, or approximately 7,200 Indian rupees. However, in April, the Indian Department of Telecommunications (DoT) announced that it was carefully studying the activities of SpaceX for violations of Indian IT and telecommunications legislation. Such reports began to appear after the industry association Broadband India Forum (BIF) applied to the Telecommunications Regulatory Authority of India (TRAI) and the Indian Space Research Organization (ISRO) with a request to block the pre-sale of Starlink services in India, arguing that SpaceX violates the policy of fair competition and legal regulations of the country.
Hoping to win Indian regulatory approval, on 1st November 2021 SpaceX registered its business in India through local Starlink Satellite Communications Private Limited and officially opened for pre-orders to customers in major Indian cities and outlying areas it originally targeted. In the first month alone, the number of applications exceeded 5,000.
SpaceX planned to start rolling out Starlink Internet in India in April 2022 and launch the service in December 2022, when the number of connected devices was estimated to reach 200,000. However, on 26th November, India's Ministry of Communications banned SpaceX from accepting orders and publicly urged Indian citizens not to subscribe to Starlink.

Why was Starlink denied by India?
The official reason to ban the pre-sales of Starlink in India was SpaceX's lack of a licence for providing telecom services in this country. However, the complaint of the Broadband India Forum, which represents the interests of SpaceX's direct competitors, also played a significant role in this development.
In December 2021, the CEO of Indian Starlink Sanjay Bhargava wrote that the company plans to apply for a global mobile personal communication by satellite services (GMPCS) licence to provide services in India by the end of January. However, despite this, the Indian regulator continued executing pressure. In early January 2022, it demanded that Starlink issue a refund to all customers who had pre-booked the company's services in India.
The company complied with the condition, after which it turned to customers with an explanatory letter. It reported that the actual timeline for obtaining a licence is unclear and that there are several issues that need to be resolved with the licencing system in order for Starlink to operate in India.
When will Starlink be available in India?

The launch date of Starlink in India has not been announced yet. When checking the availability map, the site says that the launch of Starlink Internet in India is still "pending regulatory approval."
But there seems to be a glimmer of hope for Starlink in India. In June 2023, Elon Musk met Indian Prime Minister Narendra Modi to discuss the launch of not only of Starlink but also of Tesla in the country. The meeting appears to have gone well as, on 11th July, it was reported that Starlink had applied to the Indian National Space Promotion and Authorization Center (IN-SPACe) for permission to install ground stations. The infrastructure is expected to be ready within the next few months. After that, Starlink will have to wait for spectrum distribution from DoT.
Who are Starlink competitors in India?
As Starlink implements its plan, competitors like Bharti Group, Amazon Project Kuiper, and Reliance Jio are already underway. What do we know about them?
Bharti Airtel (One Web)
Bharti Airtel is a large Indian telecommunications company, serving about 500 million customers in 17 countries in Asia and Africa. In January 2022, the operator announced a joint venture with Hughes Communications, a global satellite service provider. The operator is entering into a six-year partnership with UK-based OneWeb (partly owned by Airtel) to provide satellite broadband services in India via LEO satellites. Unlike Starlink, the company has already received all licences in India and is awaiting spectrum allocation.
Amazon Kuiper
Project Kuiper is Amazon's initiative, similar to Starlink, that aims to expand global broadband access with a constellation of 3,236 satellites in LEO. It has been confirmed that the Amazon group of Jeff Bezos is actively investing in the development of Amazon Web Services in India, and in July 2022, the company announced its intention to enter the Indian telecommunication services market. Amazon intends not only to provide the public in India with high-quality Internet services but also with jobs. Project Kuiper, like Starlink India, is in the process of obtaining a licence.
Reliance Jio
Jio is the largest mobile operator in India and the third-largest mobile operator worldwide, with around 450 million subscribers. Today, Jio is the biggest competitor of Starlink in India.
Starting in September 2019, the company began offering home fibre Internet access, television and telephone services in India, and in February 2022, it announced a joint venture with Luxembourg-based SES to provide affordable satellite broadband services.
SES has satellites in Geostationary Equatorial Orbit (GEO) and Medium Earth Orbit (MEO) that will be able to provide Internet access.
In addition, Jio owner and Asia's richest man, Mukesh Ambani, is actively using his influence to counter the expansion of Starlink and other foreign operators in the Indian market. Reliance Jio recently initiated an auction to even the market odds for Indian and overseas telecommunication companies.
Starlink and OneWeb are concerned that if India follows Ambani's lead and decides to hold an auction, other countries may follow in its footsteps. Ultimately, this may require an increase in costs and investments, which, in turn, will lead to an increase in the service cost for the end user.
How much will Starlink cost in India?
At the moment, there is no reliable information on how much Starlink in India could cost after launch. When the company took pre-orders, the prices were similar to the starter packs in the US: $499 for the hardware kit and $99 for the subscription. However, the cost in the US has now risen to $110, while in most of Europe, for example, Starlink costs between $65 and $90 per month (feel free to check out the Starlink global price list to see how much consumers worldwide are paying).
The key price-forming factor may be the strong competition from Jio and Bharti Airtel. Based on this, it can be assumed that the monthly price will be lower than the originally proposed 7,000 Rupee.
Another question is, will Starlink be able to compete with fibre networks? For example, tariff costs for Jiofiber start from 1000 rupees at speeds up to 200 Mbps. Starlink is unlikely to be cheaper, but will it be faster?
Is Starlink faster than Fibre?
Unfortunately no. The potential speed of Starlink is lower than that of fibre. Data has to be transmitted from your home to the satellite and then back to Earth, so this technology has a lot of power and bandwidth issues. Fibre, on the other hand, uses a direct cable connection where bandwidth and power limitations are not as important.
The latency and ping times of Starlink are impressive, but they are still higher than fibre (20 ms vs. 14 ms). As a result, fibre can be 4-5 times faster than Starlink, with a lower monthly cost and greater reliability.
However, Starlink India still has an important advantage — it easily wins the availability competition in places in India where fibre has not yet been installed or may never be.
Conclusions
So, despite the difficult confrontation with competitors and regulators, Starlink in India may appear by the end of 2023. As usual, we will have our finger on the pulse, so you will be the first to know about it. Keep following our news!