Gilmour Space Technologies & Its Team's Contribution to the Company's Success
4th Jun 2021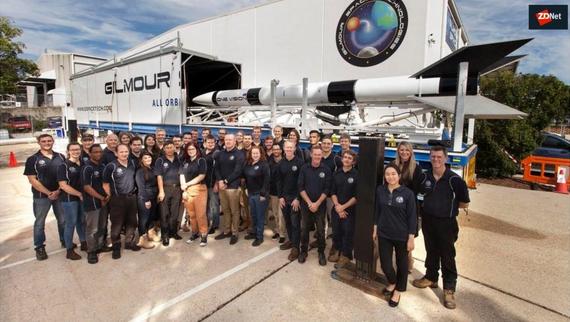 Gilmour Space Technologies was founded in 2012 by two Australians, brothers Adam Gilmour and James Gilmour. The first office opened in Singapore, where Adam Gilmour worked as a banker, and a little later, the company expanded its facilities by opening an office in the brothers' home state, Queensland, Australia.
Gilmour Space aims to build affordable rockets and launch small satellites into Low Earth Orbit. Its main development, LLV Eris, is a three-stage rocket with up to 305 kg payload capacity to SSO 500 km.
Gilmour Space became the first privately-owned aerospace company in Australia, and its high ambitions brought strong support and tangible results. But none of those would be possible without a strong team the Gilmour brothers managed to build.
Gilmour Space Team
Today, Gilmour Space corporation employs about 50 highly qualified experts. Let's talk about the key figures.
Development and production:
Nick Lindsay's division is responsible for aircraft development, manufacturing, and testing. Nick has extensive experience as a pilot and flight instructor, skillfully managing UAVs.
David Doyle is a space program manager with solid experience as a test pilot in Air Force defence programs. Doyle is also experienced in working with satellite communications and orbiting spacecraft.
Myles Frost is Head of the Mechanical Engineering Department, engaged in designing various rocket systems. Myles has devoted 14 years of his life to flying suborbital vehicles.
Dr. Matthew Bricalli is an expert in liquid and hybrid engine development. Bricalli has extensive experience in space industry hypersonic developments.
Stefano Caporossi's department designs avionics systems and develops software for launch structures and flights.
Dr. Michael Wilson is arguably the most experienced technical development officer for the aerospace and defence sector in the country. Wilson has devoted 30 years of his life to avionics and programming.
Brett Aitcheson is Head of Production, dealing with the design and commercial flight systems development.
The marketing policy is supervised by:
Peter Kinne — Head of Sales
Walter Ferraro – Financial Director
Michelle Gilmour – Executive Director and Communications Expert.
The consultants also contribute to the company development and include Professor of Astronautics Dava Newman, Consultant David Goodrich, and Economist Jackie Taranto.
Gilmour Space Technologies Partners
It would be difficult for Gilmour Space to build rockets and prepare for launches without partnering up with large Australian companies and organisations:
Blackbird is a software and digital product development company. Its automated solutions ensure successful work on aerospace projects, satisfying all modern business needs.
Main Sequence Ventures is a team of brilliant scientists whose discoveries are designed to create a close connection between science and production for the benefit of humanity.
RUAG Space is a product supplier for space enterprises. The company supplies electronics, launch systems, aircraft mechanisms, navigation systems, and more.
Ansys is a leader in engineering modeling, providing products that extend the life cycle of aerospace systems and improve their safety.
And of course, one cannot forget the key investors: Advance Queensland and 500 Startups. Their representatives Rick Baker and Martin Duursma are on the Gilmour Space executive board.
Today, this joint effort allows us to talk about Eris's first commercial launch in 2022. If this launch is successful, Australia will join the commercial payload launch market — all thanks to Gilmour Space Technologies and its dedicated team.