Is the UK's Sutherland Spaceport project on the verge of collapse?
21st Feb 2020
Orbex seeking more funds
Highlands & Islands Enterprise say funds are running out
Planning Application meets significant objections
Lockheed Martin do a disappearing act
Project gets the Chris Grayling touch
Remember the time when Transport Minister, Chris Grayling, awarded a lucrative ferry contract to a company with no ferries? The contract was subsequently cancelled after public anger and massive press coverage.



Almost a year before this fiasco, Chris Grayling put his weight behind awarding another significant government contract. This time, his efforts went into securing a contract to build rockets and a launch pad in an effort to re-ignite the UK's space industry. This time he was looking to deal out around £30m.

Chris Grayling even made a visit to one of the prospective spaceports due to receive some of the UK funding.


Back then, we are sure that Chris Grayling checked whether the companies involved actually had rockets or at least the means to produce or procure them. He did, didn't he?
This all happened during the Farnborough Air Show. We are now 18 months down the line since the Farnborough International Air Show 2018 in which the UK government showed the world its hand in its aim to be a major player in the global space race. So, what happened during that event and what's happened since then?
Farnborough International Airshow 16 – 22 July 2018
During the Airshow the UK Space Agency hosted a UK Pavillion within the Space Zone. Within this zone many of the UK's space-related businesses and organisations displayed their products and services to the general public and industry representatives with many interactive exhibitions taking place.
Many of the key players within the UK space industry used the hugely attended Airshow as a platform to make some quite significant announcements. The UK Space Agency, for example used the opportunity to announce its plans for the creation of both horizontal and vertical launch facilities across the country.
US Aerospace giant, Lockheed Martin and small launch startup, Orbex were announced as recipients of UK Space Agency grants to accommodate the building of a rocket launch facility in Sutherland on the North West coast of Scotland and a launch vehicle. The bulk of the grant £23.5m) went to Lockheed Martin, with Orbex receiving £5.5m.
Lockheed Martin's funding was to go towards establishing vertical launch facilities as well as to develop a Small Launch Orbital Manoevring Vehicle, whilst Orbex's £5.5m grant was to develop a small orbital launch vehicle. The UK Government's official press release confirmed that the £5.5m was specifically for the development of Orbex's Prime rocket…
Orbex also shared some details of private funding they had acquired to the value of £30m, a large chunk of which would likely be in the form of "order book value" from strategic "investor" Elecnor Deimos, rather than hard cash, as they also declared that the Spanish entity had secured 24 payload launches as part of the arrangement. Elecnor secured a share in the company and a seat on the board.
Elecnor Deimos would also be providing guidance, navigation and control services to Orbex as part of the overall launch facility. So there were other mutually beneficial terms in the deal that would see the Spanish entity take a small stake in the launch company.
Funds were also announced for other sites across the UK, including a proposed horizontal launch site in Cornwall.
How much closer to launch 18 months later?
Around 6 months after the announcement of Orbex securing the rocket development contract at Sutherland they had a press briefing at their premises in Forres, near Inverness, during which they unveiled what was referred to as an "engineering prototype" of one part of their two-stage rocket, which was likely manufactured in their facilities either in Denmark or Germany. There have been no other significant developments announced by the company since then, other than the online publication of a number of photographs taken within their Forres facility, showing a newly installed carbon fibre winding machine.
The prototype came under significant criticism online with many industry commentators mocking the welding of what appeared to be a patchwork nozzle. Which caused the company some embarrassment amidst their claims of advanced engineering, 3D printing technology etc.
It was expected that the main recipient of project funding, Lockheed Martin, would have announced which launch vehicle they would use, but so far the US company have remained pretty silent on the whole project. So, no rockets from Lockheed Martin so far.
Story Update:
Rocket Labs (a company in which Lockheed Martin have a strategic investment) have publicly stated that they have no intention of their Electron rocket launching from the UK. This crucial turn is extremely important, as Lockheed Martin had originally suggested this would be the launch vehicle they use at Sutherland.
The US aerospace and defence giant have been having problems of their own across the pond with huge losses being reported on satellite contracts. The company have also been embroiled in public spats with Elon Musk's SpaceX, where Musk publicly challenged their pricing on US rocket launch contracts. These problems are likely to see them looking for new revenue streams. Although their inactivity in UK doesn't reflect any serious level of ambition.
There has been some progress with the planning process for the Sutherland launch pad, as the key project management team at Highlands and Islands Enterprise have run a series of public consultation events and assembled a group of planning specialists. There was some delay with the plans as they made some last-minute design changes in response to public feedback. The final launch pad designs have been submitted to Highlands Council for planning permission, along with all the necessary Environmental Impact Assessments and Economic Impact Studies.
The Sutherland planning application is for a single launch pad, rather than the two originally suggested, so it is likely that the capacity for the site will be set at around 12 launches per year. In reality, a lower figure is likely, when taking into account unpredictable weather conditions.
With Elecnor Deimos apparently securing 2 years of the site's entire launch capacity, this opens up the question of what Orbex and Lockheed Martin (should they find a launch vehicle) could offer to any future payload clients.
Orbex are apparently on the lookout for more funding. Although with HIE's recent description of the Sutherland project being "High Risk" and the other insecurities around this launch location, it's not likely to look like an attractive prospect at this moment in time.
There have been significant objections to the plans at time of going to print, with 145 objections compared to 31 submissions in support of the launch site. A decision is likely to be made by 6th June 2020. If approved, construction is likely to begin at the end of 2020.

One of the most prominent objections has come from Wildland Ltd, the company owned by Danish landowner Anders Povlsen who not only owns the neighbouring land but also has the sporting rights over the proposed launch grounds. And his forfeiture of those rights could be crucial to the launch pad actually going ahead.
Extinction Rebellion have also stepped up to oppose the project, citing specifically the close proximity to acres of peat fields that hold tonnes of carbon and are very susceptible to catching fire. The protest group launched a video as part of their campaign…
If the number of objections continues to grow and Anders Povlsen puts significant weight behind opposing the project then it could be in real trouble.
Recent suggestions have been made about money running out and there being no sign of any funds on the horizon to fill the gap, which could lead to the total collapse of this project. Is this another Chris Grayling legacy?
A report by Audit Scotland said:
"Recent indications are the costs of the project are increasing, and it is not yet clear how these will be funded. HIE recognises this project is high risk and is in active discussions with key stakeholders."
Highlands and Islands Enterprise had already ploughed £9.8m of its own money into the Sutherland spaceport project.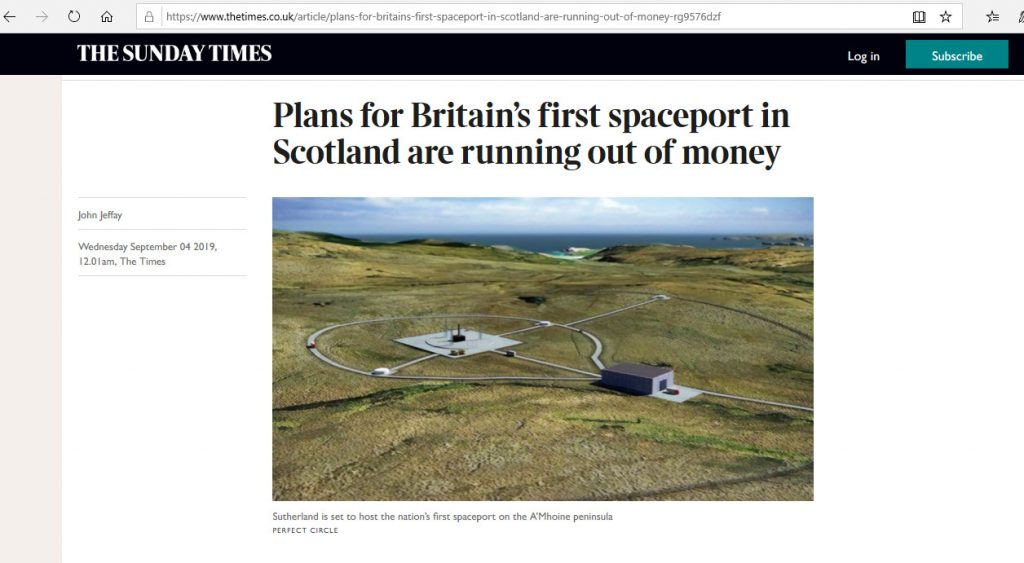 In the meantime another couple of sites have been making progress in fundraising for their own launch ambitions, with Spaceport Cornwall securing funding from Cornwall Council as well as UK Space Agency and Shetland Space Centre recently securing £2m in private investment. Although there is no sign of any other progress from those two.
We continue to monitor the UK Spaceport's ambitions and await the arrival of a knight in shining armour to come to its rescue, given its shambolic state at the moment.
The only recipient of UK government support looking likely to deliver just now is Richard Branson with his Virgin Orbit project at Spaceport Cornwall. But we doubt he is the Knight in Shining Armour that will rescue the Scottish projects.