Halloween Costume Ideas: 16 Space Theme Outfits You Need To Try
27th Oct 2023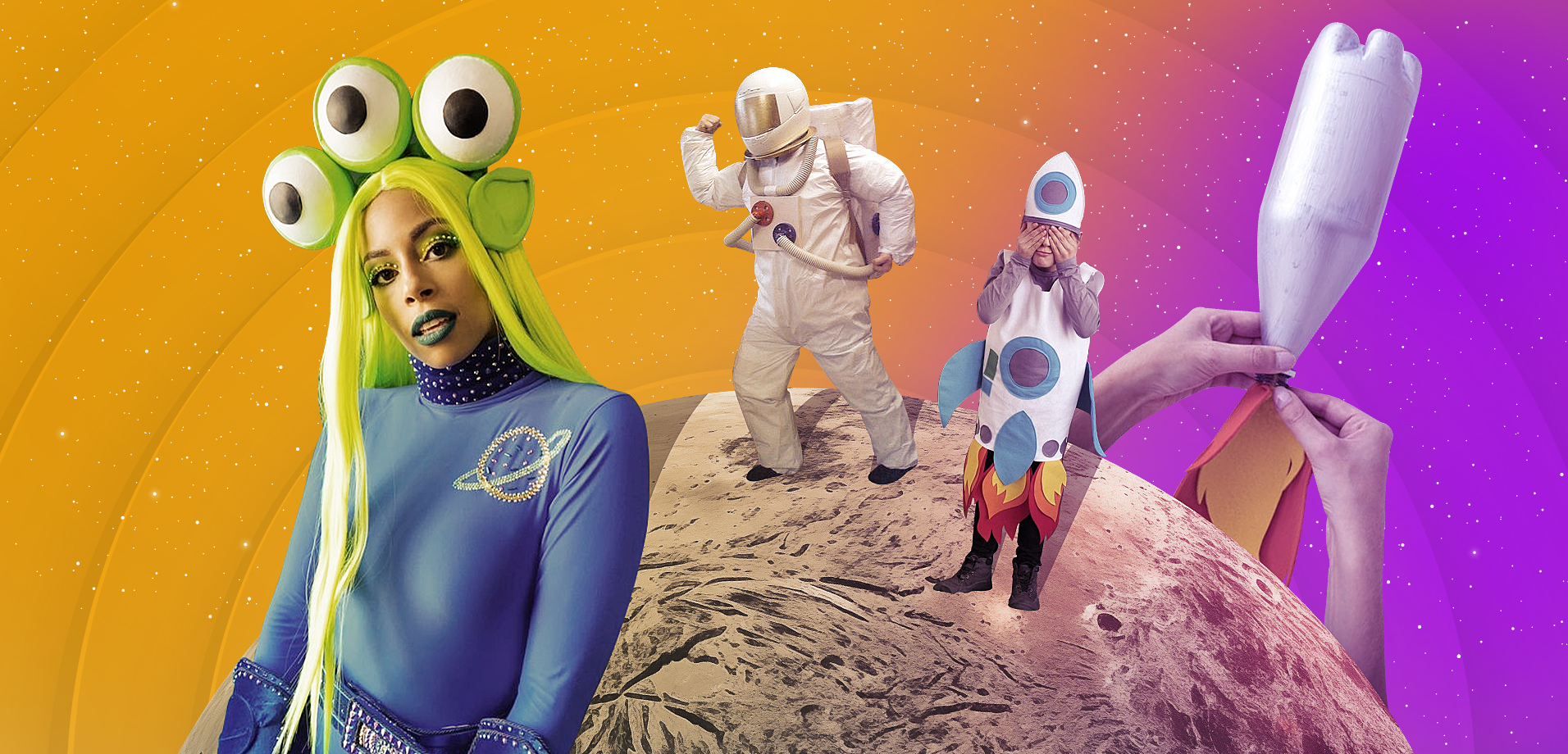 The expanse of the universe, with its celestial bodies and infinite mysteries, is an excellent source of inspiration for Halloween costume ideas. For space enthusiasts, there are numerous space theme outfits to explore – from easy-to-do astronaut looks, last-minute costume ideas, and even DIY alien costumes. So, let's dive into it!
Last Minute Space Theme Outfits
In the realm of last-minute costume preparations for Halloween, creating a space-themed outfit can offer an exciting escape from the usual choices. A quick search reveals a plethora of ideas that can be put together with minimal effort.
DIY Alien Costumes

No list of Halloween costume ideas is complete without Martians. As no one has ever seen them, your costume, whether bought or made can look however you want. The outfit can be very simple, consisting of just a green outfit, the alien eyeball headband, and green face painting to a futuristic Martian look using silver and metallic accessories to a full body suit complete with rubber face mask and bulging black eyes.
You can opt for a lime green, neon yellow, or blue shirt paired with a headband adorned with googly eyes, a simple yet effective representation of an alien. This idea could effortlessly be assembled at home with readily available materials. DIY alien costumes provide a chance to get creative and craft a unique, out-of-this-world look.
Solar System costumes for kids

Solar System costumes for kids for Halloween offer a creative and educational way to celebrate the holiday. They typically include representations of planets, the sun, and other celestial bodies on a neutral or black background.
Family costume idea for Halloween

If you're looking for a family space outfit idea, it's hard to beat this one. Mom takes centre stage as the radiant Solar System decked out in celestial splendour. Dad steps into the role of a dedicated NASA worker. The little one becomes the embodiment of adventure as a charming rocket, soaring into the unknown with shimmering flames at the base.
Easy Halloween outfit idea

Sometimes there is just no time to create something unusual, so in this case, we'd recommend leaning towards an easy-to-do outfit like this one. One transcendent umbrella and a couple of boxes would make your child an adorable UFO.
NASA rocket jet pack

In case you're missing some details to make your costume look specious, this NASA rocket jet pack is sure to make any costume stand out. Crafted carefully, it mimics the appearance of a real rocket jet pack, complete with fiery exhaust flames.
NASA astronaut costume for kids

Here, we have a white jumpsuit that is made of lightweight material. Emblazoned on the chest is the NASA logo, adding authenticity to the design. Patches representing the American flag and other space missions adorn the suit, enhancing the overall appearance.
Twinkle, twinkle, little star

Made of a shimmering material in a rich royal grey hue, the outfit gives an illusion of the infinite cosmos. Tiny, twinkling stars are scattered across the dress, creating a mesmerising effect like the wearer is wrapped in a starlit sky.
Space-Themed Halloween Costumes for Dogs & Cats
Even pets can join in the fun, right? When it comes to Halloween costumes, a plethora of options are available for our little friends. Choose your best option!
Star Wars AT-AT Dog Costume

Inspired by the iconic Star Wars AT-AT (All Terrain Armored Transport), this unique Halloween costume is represented in great detail. The headpiece echoing the walker's distinct head and leg warmers is what makes it adorable.
Space alien costumes for dogs

Another intriguing option for your pet is a costume that features a silver spacesuit, complete with a two-eyed alien head. This wacky design is sure to turn heads and spark conversations.
Halloween astronaut dog costume

If you don't have time to buy a costume for your dog, you can always make one. Using your home materials, a simple yet effective solution can be made in half an hour.
Easy DIY Space Costumes
Crafting your own cosmic attire is not only budget-friendly but also allows for endless customization. To create an easy DIY space costume, start by raiding your closet for silver or metallic clothing, or thrift stores for spacey garments. Add some glitter, sequins, or foil for that interstellar shine. Here are some other intriguing space theme outfits for you.
Halloween Spaceman Costume

For a simple futuristic spaceman outfit, select some old clothes, boots, and gloves, and spray paint them a metallic silver. Buy some cheap safety eyeglasses to complete the outfit.
Moon Costume Ideas

There are plenty of ideas for creating an excellent moon costume. As with all the costumes on the list, your choice will depend on time, money, and costume-making confidence. One option is to make the paper-mache globe and, this time, paint it silver or brown with a tinge of grey. You can use the paper-mache to create craters or even cut up egg boxes and glue them to the outside.
Shooting Star

If you want to be the star of your Halloween festivities, here's your chance. A shooting star outfit is a simple combination of gold clothing and accessories with a bit of crepe paper. It will help you shine on the 31st, even after the sun goes down.
Unusual Ideas for Halloween Space Theme Outfits
Look at these imaginative space theme costumes for Halloween that provide an exciting alternative to traditional Halloween costumes. The thing that amazes us the most is the attention to detail.
Crew Dragon

Twitter user April Santos reached for duct tape and crisp white poster board to craft an astonishingly precise rendition of both SpaceX's Falcon 9 and Crew Dragon spacecraft. Her dog, however, didn't seem as impressed.
Webbed Up

Astrophysicist Nathalie Ouellette dressed up as NASA's James Webb telescope. She should be intimately familiar with the design since she's the Canadian Science Communicator for the telescope.
EVA Astronaut

Instead of opting for NASA's iconic blue suits, you might want to look even more space-y – that is, someone who's ready to jump out of the airlock to complete a mission or explore the mysteries beyond our atmosphere. Also, in the era of private space exploration, it's always fun to come up with your own astronaut outfit based on the company you're most enthusiastic about!
Whether you opt to purchase your cosmic costume or craft space theme outfits from scratch, you're destined to leave a remarkable mark, whichever one of these great ideas you decide best suits your taste. Ranging from the elegantly straightforward to the intricately detailed, available for purchase or designed with care, there's an ideal costume waiting for each and every space enthusiast. So next time you are invited to a Halloween party, make a space costume your number choice!