OT Ranking: Wildfire Monitoring Companies – Global Edition
15th Aug 2023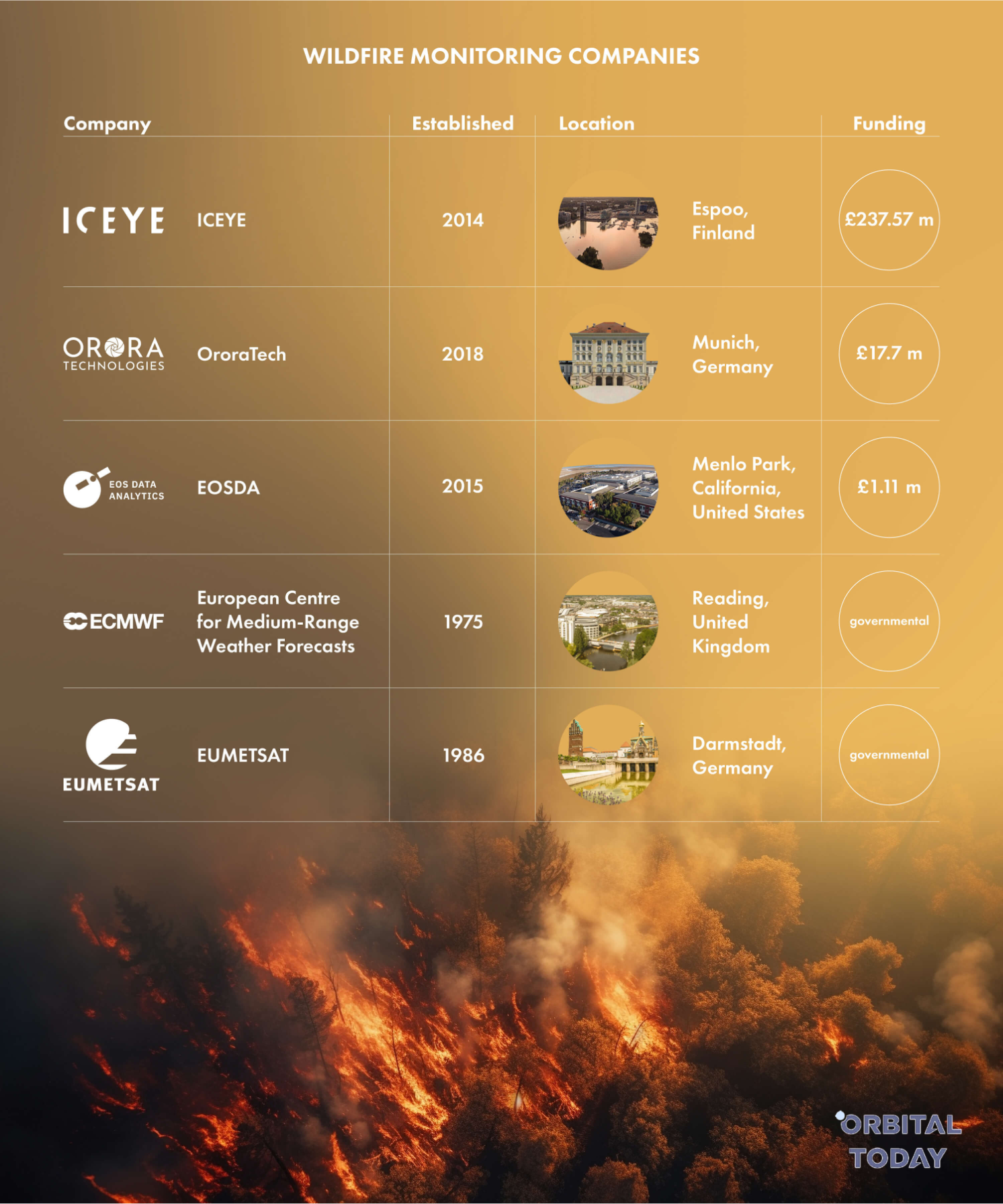 Wildfires, including bushfires, brush fires, or forest fires, are extensive and uncontrollable fires. Human activities, extreme temperatures, drought, strong winds, and lightning have all started them. Over the past years, there has been a notable rise in the frequency, severity, and duration of these destructive events. Wildfire monitoring companies now play an important, though perhaps undersung, role in measuring and containing these disasters.
According to data from the EFFIS Advance Report on Forest Fires in Europe, Middle East and North Africa 2022, in 2022, wildfires were mapped in almost every European country, burning 837 212 ha in total.

That's 86% more than the 449 342 ha recorded in 2021. For instance, the 2022 fire season in the United Kingdom had even more fires than the record-breaking year of 2019, according to the report. In terms of the total burnt area, 2022 ranked second to 2019, but they still covered over 20 000ha.

Wildfires have a dangerous impact on people's health, wildlife, and even on the environment by heating the planet.
Today, a variety of companies provide space-borne wildfire monitoring services that help prevent wildfires from causing too much damage. Here, we take note of some of the global wildfire monitoring companies that help notice and address the problem on time.
| | | | |
| --- | --- | --- | --- |
| Company | Year established | Location | Funding |
| ICEYE | 2014 | Espoo, Finland | £237,57M |
| OroraTech | 2018 | Munich, Germany | £17,7M |
| EOSDA | 2015 | Menlo Park, California, United States | £1.11M |
| European Centre for Medium-Range Weather Forecasts | 1975 | Reading, United Kingdom | governmental |
| EUMETSAT | 1986 | Darmstadt, Germany | governmental |
ICEYE
ICEYE, a Finnish Earth observation company, uses its well-established Synthetic Aperture Radar technology, already employed for global flood impact assessments, to monitor wildfires in almost real-time and share vital data insights.
Unlike optical aerial imagery, SAR satellites have the advantage of capturing images under any conditions, enabling swift feedback during wildfire events and providing updates every 24 hours thereafter. This capability allows insurers to process claims quickly and accurately.
For those responsible for safeguarding communities and properties, ICEYE can provide detailed on-the-ground information down to the building level. Furthermore, by integrating various data sources, ICEYE can identify active fires and their proximity to populated areas. These advance warnings are increasingly crucial for societies prone to wildfires as they aim to enhance their response and resilience measures.
ICEYE is preparing to introduce its innovative Wildfire Building Damage Assessment product, with an initial focus on the United States, followed by Australia and Canada.
Currently, in the Beta phase, this state-of-the-art tool encompasses the following features:
The wildfire monitoring application exhibits all ongoing wildfire events.
The building damage assessment offers crucial insights into whether a property has been destroyed or remains intact.
OroraTech
OroraTech is a German aerospace start-up company providing wildfire monitoring by employing nanosatellites. It was established in Germany in 2018 but lately expanded to Canada, the USA, and Brazil. The company launched its first thermal sensor, FOREST-1, in 2022 and the first commercial sensor, FOREST-2, in 2023.
The company offers real-time wildfire monitoring and damage analysis using data from more than 20 satellites. The satellites are equipped with infrared and thermal sensors capable of detecting heat signatures and temperature anomalies on the Earth's surface. When a wildfire occurs, it releases significant heat and emits infrared radiation, which the sensors can identify.
OroraTech's analytics process the satellite data to detect and identify wildfire hotspots. These hotspots indicate the locations of active fires or areas where wildfires have recently occurred. The system also collects historical data, which helps analyse wildfire patterns and trends over different periods. This information aids in understanding the changing wildfire behaviour and its potential connection to climate change or other factors.
Furthermore, OroraTech and Spire Global, a worldwide data and analytics company, have revealed their plans to deploy a constellation of eight satellites dedicated to monitoring global temperatures and wildfires. This satellite network is scheduled to be in orbit by mid-2024. The satellites will do more than observe ongoing wildfires. They will also pinpoint areas vulnerable to wildfires, an aspect intensified by climate change, as mentioned by OroraTech. The data gathered will be valuable for first responders and the insurance and energy industries.
EOSDA
EOS Data Analytics (EOSDA) employs a thermal infrared channel for fire detection and assessment, enabling precise measurement of forest fires through change detection and imagery analysis.
EOSDA Forest Monitoring is an advanced online software developed by EOSDA, dedicated to forestry management. Leveraging satellite imagery, it empowers landowners, logging companies, research institutes, and more to remotely monitor forest health, access up-to-date data on forest stands, receive timely notifications about changes and risks via email, and efficiently manage all forest stands in one centralised platform.
To acquire imagery, EOSDA relies on data from the Sentinel 1 and Sentinel 2 satellites. Additionally, the company launched its first optical EOS SAT satellite into low Earth orbit in January 2023. This move aims to enhance forest dynamics monitoring from space and pave the way for a future agricultural satellite constellation.
The platform incorporates a Burned Area feature, providing fire damage assessment to evaluate territories impacted by fires and classify the extent of forest damage. Furthermore, EOSDA offers integration with other features, such as reforestation tracking algorithms, facilitating the measurement of reforestation effectiveness over time.
European Centre for Medium-Range Weather Forecasts (ECMWF)
The Copernicus Atmosphere Monitoring Service (CAMS) is a European Union initiative launched by the European Centre for Medium-Range Weather Forecasts (ECMWF). The service provides comprehensive and up-to-date information on the Earth's atmosphere. While CAMS primarily focuses on monitoring atmospheric composition, it also plays a crucial role in tracking wildfires and their impacts on air quality and the environment:
CAMS uses satellite observations, ground-based measurements, and advanced numerical models to monitor and forecast wildfire activity.
CAMS employs satellite data from various sources, including the Copernicus Sentinel satellites, to detect and track wildfires. These satellites are equipped with sensors that can identify heat signatures and smoke plumes associated with active fires.
CAMS measures the detected wildfires to estimate their emissions of greenhouse gases, aerosols, and other pollutants and provides real-time and forecasted information on air quality in regions affected by wildfires. This helps authorities and the public stay informed about potential health risks and take necessary precautions during wildfire events.
CAMS delivers timely and accurate information to emergency responders, fire management agencies, and policymakers. This data helps coordinate response efforts, manage firefighting resources, and make informed decisions to protect public health and safety.
EUMETSAT
EUMETSAT (European Organisation for the Exploitation of Meteorological Satellites) monitors wildfires through its fleet of geostationary and polar-orbiting satellites. These satellites are equipped with infrared sensors, which can detect the heat signatures of wildfires to identify areas on the Earth's surface with abnormally high temperatures, indicating potential wildfire hotspots. These hotspots are locations where fires are active or have recently occurred.
EUMETSAT's satellites capture high-resolution imagery of the Earth's surface. This imagery helps identify the extent and severity of wildfires and provides real-time updates on the fire's development and movement. The satellite data is transmitted to ground stations, where it is processed and made available to meteorological agencies, firefighting organisations, and other relevant authorities in real time.
EUMETSAT also integrates its satellite data with information from other sources, such as weather models and ground-based observations, to comprehensively understand wildfire behaviour and its potential impacts.
By using satellite technology, EUMETSAT plays a crucial role in monitoring wildfires, providing valuable information to aid in firefighting efforts, supporting disaster management, and assessing the environmental impacts of these destructive events.
We'll fan these flames for sure!
Utilising space-borne assets for wildfire detection is a rapidly growing field. We are sure that this list of wildfire monitoring companies can become a ranking soon, as the industry matures.
Implementing satellite monitoring and data analysis plays a vital role in tracking wildfires and their impacts on the atmosphere. The technology provides valuable data and insights to support firefighting efforts and environmental management. By using advanced satellite technology, the wildfire monitoring companies from our list contribute to efforts in mitigating the impacts of wildfires on communities and the environment.
With the rapid development of satellite technologies, we believe more and more companies will contribute to finding solutions to the wildfires problem.
While working on this list, we used only open sources such as media announcements, articles, and data from company websites. The financial data in our table is valid as of 2022 and provided by Crunchbase. If you have suggestions or noticed that missed some wildfire monitoring companies you think are worth featuring in our ranking, feel free to share your suggestions with us!