OneWeb's JoeySat Successfully Completed In-Orbit Testing
2nd Aug 2023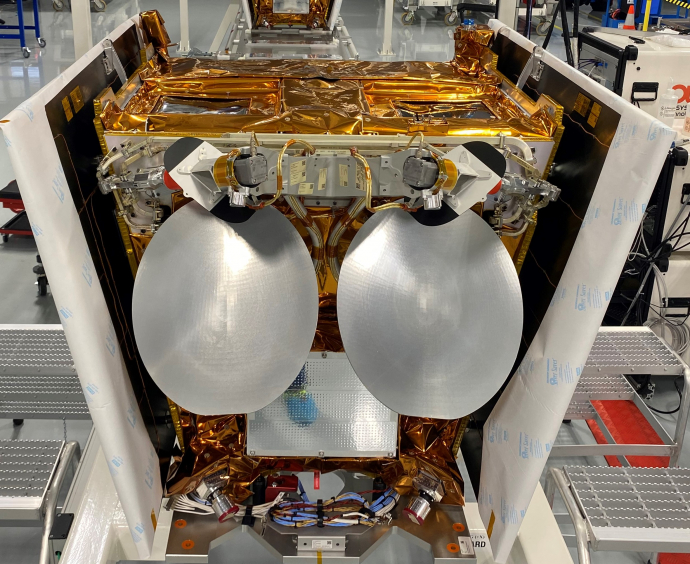 The UK-built beam-hopping satellite JoeySat has successfully completed its initial in-orbit testing. Poised to strengthen connectivity for those travelling by air, sea or land, the satellite will soon connect thousands through its beam hopping technology whilst in low-Earth orbit (LEO).
The satellite was built collaboratively between UK-based satellite connectivity company, OneWeb, and the European Space Agency (ESA) – under the Sunrise Partnership and with backing from the UK Space Agency (UKSA). After the successful initial testing, JoeySat will demonstrate "key technologies for OneWeb's next generation constellation," ESA said in a press release on 30th July.
Passing In-Orbit Testing

Since its launch on 20th May, JoeySat has completed its payload and platform commissioning tests, and thus officially begun its one-year orbital testing campaign. During this mission, JoeySat will demonstrate its full range of features in LEO: its digitally regenerative on-board processor, multi-beam phased array, and incorporated beam-steering and beam-hopping antennas.
Harshbir Sangha, Missions and Capabilities Delivery Director at UKSA, said: "It is exciting to see OneWeb's JoeySat pass its initial in-orbit tests so that it can move on to demonstrate the huge potential of its innovative beam-hopping technology to enhance connectivity and improve people's lives."
Bolstering OneWeb's Satellite Constellation
Joining OneWeb's Gen 2 satellite constellation, JoeySat will boost connectivity in high-demand areas through high-speed internet and 5G connectivity. The satellite's beam hopping technology lets it swiftly alter its coverage focus across many locations, and provide connectivity to those living in, or travelling across wide geographical areas. Additionally, JoeySat can shift its signal power to meet surges in demand – which is prevalent during natural disasters, ESA said. 
The company recently announced the expansion of its connectivity services throughout Europe and the majority of the United States, with services now available above the latitude of 35 degrees north. The expansion means the company and its partners can now offer services to Austria, Italy, France, and Portugal in Europe, as well as the entire western US coast from Washington to California, and the northeast coast from Maine to Virginia.
JoeySat's Next Round Of Testing
OneWeb's beam-hopping satellite will send signals to ground stations in Norway and Sweden to showcase its full capabilities while in near-polar orbit. ESA said initial end-to-end communication experiments will test JoeySat's dynamic resources, and once fully operational, the flexible payloads will deliver "global connectivity". The University of Surrey will also pilot test JoeySat's 5G capabilities.
Built Using 'New Space Best Practices'
ESA said the partnership utilised 'off-the-shelf components' and built the satellite to 'new space best practices', taking only a year to construct. UK-based communications company, Satixfy, built the advanced digital regenerative payload, and environmental tests were also completed on UK soil. UKSA previously injected £52 million of funding into the project, with Mr Sangha adding: "we look forward to watching its next-generation capabilities come to life."