Orbital Today UK Launch Companies Ranking
4th May 2023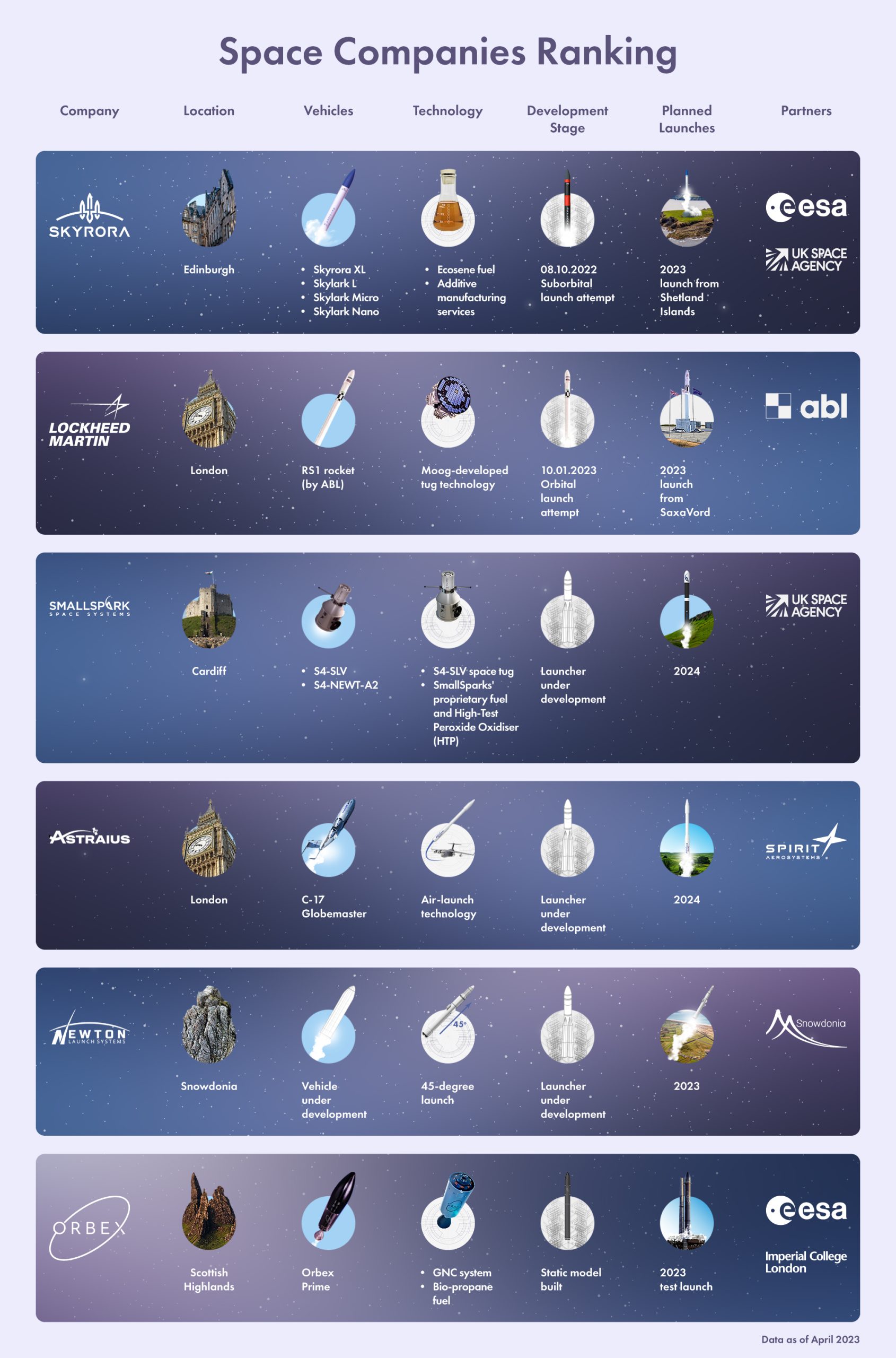 In the latest of our series ranking the key players in the UK space industry, Orbital Today is proud to launch our UK launch companies ranking. This is a way to keep tabs on what these companies are doing, and how they are developing new technologies and craft that will turn the UK into a hotbed of space launch activity!
Company
Location
Vehicles
Technology
Development Stage
Planned Launches
Partners
Skyrora
Edinburgh
Skyrora XL, Skylark L, Skylark Micro, Skylark Nano
Ecosene fuel, Additive Manufacturing Services
Suborbital launch attempt
08.10.22
2023 from SaxaVord
ESA, UK Space Agency, Univ. of Strathclyde
Lockheed Martin
London
RS1 rocket (by ABL)
Moog-developed tug technology
Orbital launch attempt
10.01.23
2023 from SaxaVord
ABL
SmallSpark
Cardiff
S4-SLV, S4-NEWT-A2
S4-SLV space tug, SmallSparks' proprietary fuel and High-Test Peroxide Oxidiser (HTP)
launcher under development
2024
UK Space Agency
Astraius
London
C-17 Globemaster
Air-launch technology
launcher under development
2024 from
Prestwick
Spirit AeroSystems
Newton Launch Systems
Snowdonia
45-degree launch
launcher under development
2023 from Llanbedr
Snowdonia Aerospace Centre
Orbex
Scottish Highlands
Orbex Prime
GNC system, bio-propane fuel
static model built
2023 test launch from Sutherland
ESA, Imperial College London
Let's look at the UK launch companies and some of the launches and technologies they are working on, as the UK space race continues to rumble on.
Skyrora
Location: Edinburgh plus Cumbernauld, Lanarkshire

Skyrora has proven to be one of the most ambitious launch companies in the UK in recent years, and is currently developing and testing a whole fleet of launch vehicles in their factory in Cumbernauld, Lanarkshire. As such, it takes pride of place in our UK launch companies ranking.
The flagship Skyrora XL craft is a three-stage launch vehicle which will place its payloads into a Sun-Synchronous Orbit range of 500 km to 1,000 km altitude or Polar Orbit between 200 km and 1,000 km.
The craft is due to take to the skies for the first time in 2023, and is awaiting the relevant paperwork for the launch to be pencilled in. It will launch from the Shetland Islands and it has not yet been announced what the payload is. CEO Volodymyr Levykin explained that third-party partners would likely be launching satellites soon using the Skyrora XL:
"There's so much information that can be collected from space, such as optical and temperature sensors generating data that can be actioned in real-time across verticals from the farming industry, to traffic management systems, and insurance firms. We just arrange the transport."
Skyrora's fleet also includes Skylark Micro, a two stage, supersonic rocket powered by solid rocket motors, and a guided, single-stage, suborbital launch vehicle that uses a fixed (but movable) launch pad.
Partners of Skyrora include the Shetland Space Centre, the ESA, the UK Space Agency, and the University of Strathclyde. In 2022 Maritime Launch Services Inc. announced that they have signed a Letter of Intent to launch Skyrora XL from Spaceport Nova Scotia in Canada.
Lockheed Martin UK/ABL
Location: London

Lockheed Martin is a huge, global company, and the UK arm is well and truly embroiled in the race to be the first launch from UK soil.
That said, the technology involved doesn't have the same "home-grown" feel as some of the others. The plan for the company's 2023 launch from UK soil is to use an RS1 rocket made by ABL in California, and tested in Alaska, as the company takes a collaborative approach to its UK launch.
The RS1 rocket is capable of delivering a payload of 1,350 kg into low Earth orbit, but in its Alaskan tests in January 2023, it failed due to an "anomaly".
Founder of ABL Dan Piemont said ABL both rocket and launch system will be built in California before they are shipped to Scotland for the UK Pathfinder mission.
Promisingly for the UK space industry, he also said in "the future we'll evaluate doing as much of the work as possible within the UK".
A spokesperson for ABL also said that the company plans to implement "a regular launch cadence from Shetland Space Centre, allowing us to better serve the European satellite market."
SmallSpark Space Systems
Location: Cardiff

A "Space Logistics Vehicle" is how SmallSpark describes its S4-SLV system. SmallSpark recently received £76,000 worth of funding to develop its propulsion system ready to power the S4-SLV and into orbit in 2024. The system will provide deep-space transportation capabilities for low-mass satellites and get rid of the need for dedicated onboard power, communication and transport. It should be able to service small satellites in order to prolong their lives. Space tug tech is also being developed to service up to 50 satellites in the lifetime of the craft, plus to help deal with the issues of space debris using the same vehicle.
The maiden flight of the S4-SLV will be a three phase mission ending in a low lunar orbit, planned for 2024, with the company aiming to continue with regular launches for the foreseeable future. The demo mission in 2024 could rely on one of the UK's upcoming launch vehicles to carry the S4-SLV to orbit.
SmallSpark has been backed by both the UK Space Agency and The European Space Agency.
Astraius
Location: London (launches planned from Prestwick Spaceport)

Astraius is entering the horizontal launch market in the UK, with plans to use their "air-launch" platform to take satellites into space underneath a C-17 Globemaster transport aircraft. This craft has been successfully used in the US for horizontal launches.
The company plans its first launches in 2024, and promises an all-in-one platform that includes payload processing, launch vehicle integration, and a mission control centre for third-parties who send their satellites into space using their services.
Astraius is using a system that is capable of launching payloads up to 800 kg, a higher figure than many of the competing companies. The launch system delivers satellites to low earth orbits including Sun-Synchronous Orbit.
In early 2023, the company signed a deal with Spirit AeroSystems to improve and reinforce their launch capabilities.
Newton Launch Systems
Location: Snowdonia Aerospace Centre (SAC)

In an exciting and unusual development, Newton Launch Systems has built a prototype for a rocket that will be reusable, launching at a 45-degree angle along a rail track. Newton Launch Systems.
Not a huge amount is known about the technology driving this launch, but it is possible that we could see test launches from the Llanbedr site in Wales later in 2023.
Orbex
Location: Scottish Highlands

Just as we were preparing to publish our UK launch companies ranking, Orbex CEO and co-founder Chris Larmour was abruptly removed from office on 14th April. No new CEO has been installed as of the time of writing, so we expect the company to pull itself together slowly, if at all. The smoke-and-mirrors aspect of the Orbex PR output, as opposed to the anorak-in-motion presentations of others, makes us wonder about the company's actual progress in the first place.
Orbex offers space launches out of Scotland with their vehicle the Orbex Prime. This is a small micro launcher with the capacity to deliver payloads of up to 180 kg into orbit. It is designed to be totally reusable.
Orbex uses additive manufacturing for much of its propulsion system and carbon fibre as well as graphene composites for the main structure, helping with the efficiency of the launch vehicle. The vehicle runs on a renewable bio-propane fuel which reduces emissions by 90% compared to old-fashioned hydrocarbons.
Orbex has pioneered plenty of interesting technologies including their 3D printed engine which is manufactured in one single piece with no joins required. The smart ignition system also has no moving parts or electrics for the on-orbit restart. The company's own flight-proven guidance, navigation and control systems provide in-depth monitoring.
The maiden flight of Orbex Prime is due to take place in 2023, though an exact date has not been set. The craft will launch from Sutherland Spaceport in Scotland, the first vertical spaceport to be given planning permission in the UK.
Partners of Orbex include the European Space Agency, Force Technology from Denmark, the University of Exeter, and Imperial College London.
Orbex has received funding and investment from the likes of BGF, Octopus Ventures, the Business Growth Fund, Heartcore Capital, High-Tech Gründerfonds, the Danish Green Future Fund, Verve Ventures and Phillip and James Chambers, the British entrepreneurs.
Virgin Orbit*
Virgin Orbit has filed for Chapter 11 bankruptcy protection in the US, meaning they can still operate and try to find solutions to their financial problems, but also give their creditors certain guarantees regarding money they are owed.
Both the failed Cornwall launch and the collapse of Silicon Valley Bank had an impact and damaged the company while it was looking for funding.
Will Whitehorn, the former president of Virgin Galactic, thinks that this isn't necessarily the end for Virgin Orbit:
"What you have got to remember is they have got nearly 50 satellites into space already, so I think there's a chance they'll be back," he said.
It certainly wouldn't be the first company to go through a Chapter 11. Quite a few space companies have gone through Chapter 11 bankruptcy and gone on to be successful, and even London-based OneWeb emerged from similar issues back in 2020.
We couldn't leave Virgin Orbit off the UK launch companies ranking altogether, and no doubt it will climb the rankings should the company find the backing it needs. 
What's Behind Our Rankings?
Our UK launch companies ranking is based on the technologies and advancements being made by UK launch companies. It's a fledgling industry and things can change quickly, so this is definitely a work in progress.
There are others trying to make their mark and be among the first to facilitate UK space launches, but for now, the companies on this list, and their technologies, are those we've deemed to be leading the way.