Orbex CEO Chris Larmour Out As Progress Halts
17th Apr 2023
Orbex announced on 14th April 2023 that its founding CEO in Denmark, rocket builder Chris Larmour, would step down. In the announcement, Orbex claimed that the change would let the company to move to its next phase of development. The Orbex CEO change, as sudden as it is, leaves few questions regarding its working relationship with Larmour.
What just happened to the Orbex CEO?
The immediate reason for the departure or any further details have yet to come to light. However, there are many signs that we can interpret into likely scenarios. The most obvious one of these is the claim by Orbex that it was necessary for the company's growth, thus suggesting he was a barrier or a hindrance to that.
What has been obvious to us, and we hope others, is that since the early days of Orbex, a company founded by German-based Larmour and Danish architect Kristian Von Bengtson, there haven't been a lot of "progress" announcements from the firm and that a lot of their operations remain shrouded in secrecy. And when they did make any public announcements or hold "launch" events they were focused heavily on the film production values and optics… which those from Larmour's likely background in military intelligence (yes, they are very secretive about that too… obviously) would have adopted as part of a statecraft strategy of "smoke and mirrors". And it all started to look a little bit dishonest.
Universal smoke and mirrors
There is, also, the matter of the unveiling of the Orbex Prime "rocket" at their vast empty warehouse in Forres. It could've come straight out of Universal Studios and the imagery wouldn't be out of place in the Tate Modern; it was worthy of a Turner Prize. It was all about the optics. And yet, an observer, keen or otherwise, could see that some things weren't right. And it turns out we weren't wrong when we said that at the time, because the rocket was a shoddily put together prototype and not an actual final production item as they claimed at the time.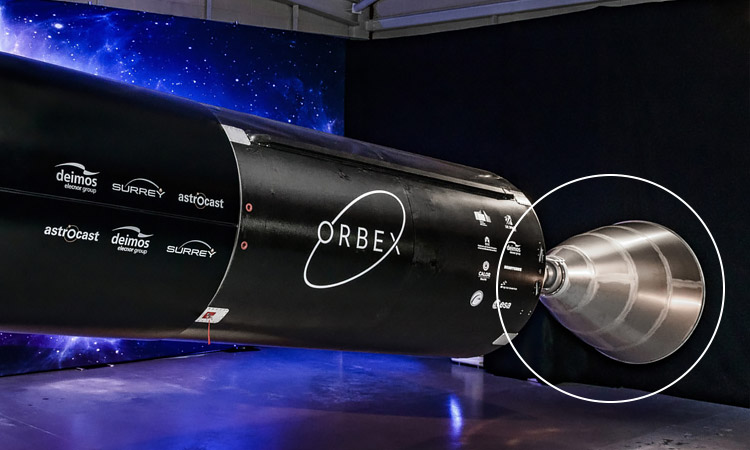 One of Orbex "progress update" videos that could easily have been the next Star Trek movie intro further demonstrated that the video production values were an important tool in the company's arsenal. It can be seen here: https://www.youtube.com/watch?v=crsNRosXINE. It is worthy of a cinematic award.
Real world problems
The company were also hit by two major and connected failures. First, American aerospace behemoth Lockheed Martin pulled out of their partnership to create and operate a launch pad from Sutherland in the north of Scotland. Lockheed moved to Shetland Spaceport, which caused considerable embarrassment for both Orbex and Highlands and Islands Enterprise (HIE).
The second major failure for the company – although it was more of an HIE blunder – was the inability to find an independent launch pad operator for Sutherland. Orbex then found itself stepping in and taking up that position. That move may have been a hugely detrimental one for the leaderless company as it meant a huge undertaking on top of what they needed to do to get their rocket development completed. Not only a huge undertaking, but a specialised one at that. It is likely that Orbex didn't have the internal knowledge, the construction experience or the funds to sustain that position easily.
Sutherland Spaceport remains in a state of jeopardy as it has come across huge increased construction costs and challenges brought about by a multitude of factors. Specialist knowledge aside, there is also the overall current cost of living crisis and huge increase in the cost of building materials. The company have now had to bring in specialist contractor, Jacobs, to take over and oversee the project.
Summary
The UK's race to space has been jarred by two events in 2023. Overall, the landscape has now undeniably changed and the race has now taken a very significant turn. The first event was the failed launch of Virgin Orbit's Launcher One rocket from off the coast of Ireland, onboard a Boeing 747 that took off from Newquay Airport in Cornwall, and followed by their descent into bankruptcy. The second event is this sudden departure of Orbex CEO, Chris Larmour.
There now remains only three up-and-coming vertical rocket manufacturers that still appear to be on track and all are connected to Shetland Space Centre (Saxa Vord). These are Edinburgh-based Skyrora and the two German firms, Hyimpulse Technologies and Rocket Factory Augsburg (RFA). Lockheed Martin still remain focused on the Shetland launch site. They have as yet not announced which rocket they would use, although its looking likely to be a rocket from ABL Systems.
Out of those, Skyrora is the only one based in UK. They have a live presence at multiple sites across Scotland. And from what we've seen, any progress updates from the company have shown raw, evident signs of progress from drone footage showing suborbital launches from the UK and Iceland to a multitude of engine tests from their various locations in UK. None of which appear to have been directed by Steven Spielberg.
The UK space race has just gotten interesting, and we'll be tracking it via our league tables. As we predicted some time ago, it is looking like it will either be a head-to-head race between Scotland and Germany, or a coordinated process in which all participants work hand in glove to do what's best for the country. Either way, it's happening. And we will watch, with interest, the unfolding events.