Space Map of Wales
23rd Mar 2023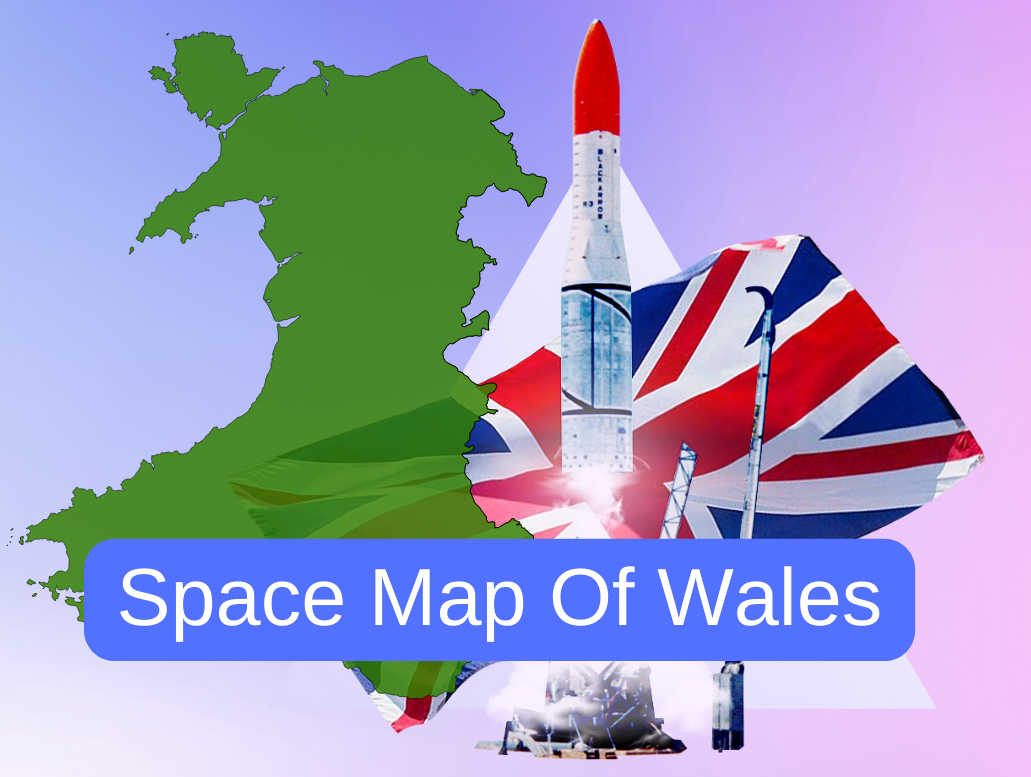 Wales may only account for around 5% of the UK population, but it makes up an impressive 10% of the UK aerospace workforce. However, this figure drops significantly when it comes to the space sector, and only 1% of employees in this industry hail from Cymru. Still, the space map of Wales shows a variety of activity.
As the UK looks to increase its market share of the global space sector to 10% by 2030, Wales is eager to get in on the ground floor with these ambitious plans and boost its own presence drastically over the coming years. If it's possible to take just 5% of this increased revenue, then Wales could benefit from an additional £2 billion per year.
One of the major aims for the Welsh government and Aerospace Wales in recent years has been to form a comprehensive space network and increase their overall capabilities as a serious space nation. Therefore, it comes as no surprise that a hot topic on the Welsh agenda right now is to continue to develop their very own Spaceport on the west coast.

Snowdonia Spaceport at Llanbedr Airfield
The Snowdonia Spaceport is a space and aerospace hub currently being developed on the site of a WW2 RAF base in Llanbedr. The plan is to include various elements of space tourism, testing and launches.
A Spaceflight Academy is planned at the spaceport. This is one part of a project intended to help visitors immerse themselves in a complete space experience to hopefully encourage space tourism and inspire young minds to consider a future career in the industry.
With access to segregated airspace and not restricted by other commercial flight commitments, Llanbedr Airfield could be the perfect place to host satellite launches. Tests are planned for 2023.
Space Forge Cardiff
One of the most innovative startups in the world is based in Cardiff, and their mission is to take manufacturing to new heights. They identified issues with creating a metal alloy here on Earth and discovered that the very atmosphere that keeps us safe and able to breathe is completely impractical for mixing metals and other tasks.
The Space Forge team designed and created a small satellite that has a very different function from the thousands of others that are currently in orbit and are beaming images and other data back to Earth.
ForgeStar satellites, the range envisioned by Space Forge, are like mini-factories that complete their manufacturing processes beyond our restrictive atmosphere to create specialist, flawless tools and equipment. The units are also salvageable and can be reused a number of times.
The first model, ForgeStar-0, made it onto Virgin Orbit's inaugural UK launch in January 2023 but never reached its final destination. Work has already begun on ForgeStar-1 and the team plan to be ready for the next UK launch.
MOD Pendine & Radnor Range
These testing areas may be on opposite sides of the country but they are joined together by a common aim to help increase space testing and research.
The Long Test Track at Pendine is perfect for high-speed trials within a prepared and safe environment and could prove to be invaluable with further investment to develop the area.
Radnor Range is an independent test facility with UK MOD accreditation and is responsible for putting armoured vehicles through their paces. It's hoped that the same area can be adapted to include spacecraft testing.
Both Pendine and Radnor are also perfect locations to take on the task of high-thrust rocket engine tests that are needed for launch vehicles. It's currently only possible to test low-thrust satellites at the NSPF in Wescott and no other secure sites have yet been identified for noisier and more powerful vehicles.
SmallSpark Space Systems Cardiff
This Cardiff-based tech firm is on the brink of becoming the first UK company to design, manufacture and send a satellite launch vehicle into cislunar orbit from within the UK's borders.
Their S4-SLV space tug is due to take off in 2024 and will effectively act as public transport for satellites. The idea is to allow businesses looking to get their own satellites into orbit to do so quickly on regularly scheduled launches. The tugs should be able to make 50 trips to deploy small payloads before being retired and potentially bringing unused units back down with them.
SmallSpark will begin by utilising 3rd-party launch systems while they continue to work on developing their very own launch capabilities. They are already making headway with the creation of their NEWT-A2 engines, which will be the simplest biprop engines ever used in orbit.
Compound Semiconductor Cluster
The Compound Semiconductor Cluster was created through the CS Connected initiative bringing together 12 partners from key areas along with several government organisations.
Naturally, IQE is playing a large part in bringing years of experience and market leadership to the table along with Newport Wafer Fab. There is also input coming from the University of Cardiff and the University of Swansea as well.
These various entities have been brought together as part of a huge £400 million investment program announced by the UK government aimed at integrating research and improving regional supply chains through advanced semiconductor manufacturing.
Compound semiconductors play an important role in various technologies—not least in space applications. They are essential for spacecraft operation, providing communication, storage and power.
The increased performance that is being demanded of modern semiconductor technology is driving forward the semiconductor cluster here in Wales as it remains way ahead of many other parts of the world and looks set to play an industry-leading role moving forward.
TWI Port Talbot
TWI specialises in non-destructive testing, and the branch in Port Talbot is one of five regional offices that also offers expertise in material joining and various engineering processes.
The work carried out by TWI has provided integral assistance to the space industry by developing specialist techniques for welding and coating that meet the incredibly demanding standards of this sector.
The company was formed in 1922 and is now regarded in the industry as one of the leading independent research and technology organisations in the world. Most recently, the team here was responsible for joining together two parts of Orion's crew exploration vehicle that may one day be used to take astronauts to the surface of Mars.