The Space Map of South East England
21st Dec 2022
South east England is home to hundreds of organisations either working exclusively in or contributing to the growth of the UK space sector. These companies are spread across a range of specialist areas including manufacturing, applications, support services, test facilities, communications and others.
With most of the current focus on Cornwall and the south west due to the imminent Launcher One release, the rest of the UK is sitting slightly in the shadows. But here to shine a deserved light on other important activity in the sector is our Space Map of SE England.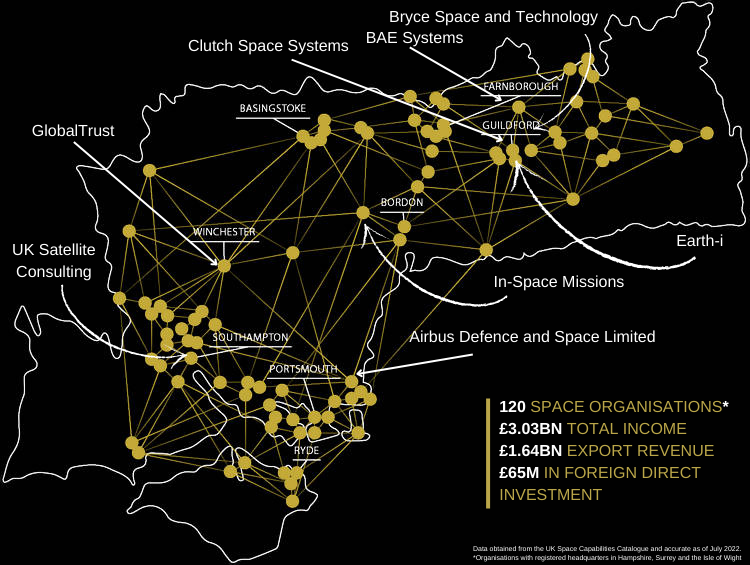 Airbus Defence & Space Ltd
Airbus Defence and Space Limited in Portsmouth is just one of the locations in the UK that this brand dedicates to pioneering sustainable aerospace.
Well-known for their work in the commercial flight sector, Airbus is also at the forefront of manufacturing in the space sector as well. It is the largest aeronautics and space company in Europe and they offer products that connect people and places via air and space.
Employees at this cutting-edge brand share the same vision to improve life on Earth and beyond using space technologies. Their space portfolio includes Earth observation, telecoms, navigation, in-space infrastructure, on-ground infrastructure and exploration.
Gravitilab Aerospace Services
Gravitilab is a groundbreaking microgravity testing facility in Norwich. For customers carrying out scientific research or validating space systems, they offer an end-to-end testing service that manages to lower costs and make the entire process more accessible for even smaller startup companies that need their products put through their paces.
They have their own proprietary and reusable launch vehicles to help carry out many of their testing requirements. And this helps to make them the sustainable choice for those looking to bring space-focused products to market.
In their test facility, it's possible to achieve up to 180 seconds of microgravity and this service can also be delivered remotely to customers. It truly is a flexible microgravity testing opportunity.
Orbit Communication Systems Europe Ltd
Obit Communication Systems is a leading global provider of airborne comms and satellite space solutions. They work in both the public and private sectors providing over 4,000 airborne systems in conjunction with nearly 2,000 ground systems.
From a commercial standpoint, they are able to offer audio management systems, maritime satcom, telemetry and tracking, business aviation satcom and Earth observation ground stations. These solutions make the world a smaller place for customers needing to track both maritime and land-based movements.
In-Space Missions
This small company near Guildford designs, builds and operates digital space missions for global customers.
They develop space and new space missions by providing consultancy and procurement support to the space industry. They've collaborated with and supported over 40 organisations since their inception in 2015. The team at In-Space Missions has accumulated over 150 years of combined military and commercial space experience.
They use their purpose-built satellite clean rooms to design, manufacture, integrate and test various satellites for customers looking to find payload and full-mission solutions.
Clutch Space Systems
The innovative Clutch Space Systems aims to reduce the cost and complexity of satellite communications. Based at the Surrey Technology Centre they share the same postcode as BAE systems and SSTL.
At the company's inception, the founders recognised that their software could deliver significant advantages to space operations. This would prove to be true in both an economic and technical sense. They saw the complexities that existing and ageing infrastructure would cause new space companies moving forward. So they set about developing their own fully software-defined ground segment solution and reducing the cost of backend equipment.
Their standout product offering is the Clutch-AnyBAND solution which offers high performance while retaining exceptional value for money.
Telespazio
Telespazio is one of the major players in global satellite solutions. They have over 40 years of experience providing technology, consultancy and engineering services. From the design and development of space systems to Earth observations and communications, they have worked with the ESA on the vast majority of its programs.
Headquartered in Rome with various other offices in Europe and beyond, they have a wide international network of space centres and teleports. They are dedicated to improving the sustainability of new space exploration and are committed to tackling climate change by reducing their own environmental impact.
4Links Ltd
Headquartered in Milton Keynes, 4links Ltd produces high-quality Spacewire test and measurement equipment. This equipment is for ground and inflight use and creates fast and reliable solutions.
The systems have been used by both NASA and the ESA over the last 18 years and are at the forefront of the new space industry providing essential comms hardware.
This British SME is recognised as the world authority on Spacewire technology. So it is understandable that they have so much involvement in existing and upcoming space missions around the world. Company owner, Paul Walker, had a unique understanding of the technology in question and pioneered the use of this spacecraft communication network.
Avanti Space
Avanti Space is an international operation with offices in London's W1 area. They provide Ka-band satellite communications and help connect and protect people around the world. Their coverage stretches across Europe, the Middle East and Africa.
They've been in the sector for over 10 years and have built on their reputation for providing reliable and secure satellite connectivity services. Their products are able to integrate into other complex networks and bring connectivity to rural and remote areas.
They also provide invaluable communications services for remote government offices and outposts in times of conflict and disaster recovery. The resilient and ultra-reliable comms have a proven track record in the most difficult scenarios. The technology also has the added advantage of including steerable beams. These flexible beams are able to operate in civilian or government Ka-band and support high-level encryption to mask beam positioning.
A bright future for the south east
South east England has a vital part to play in delivering services and solutions for the new space industry. Hundreds of local and international businesses are already based in the area. And as the sector looks to continuously expand, the new space landscape here is going to develop further into an integral hub. It's an exciting time for this corner of the country.