OneWeb Vs Starlink Comparison: Top Internet Constellation Features
2nd Oct 2022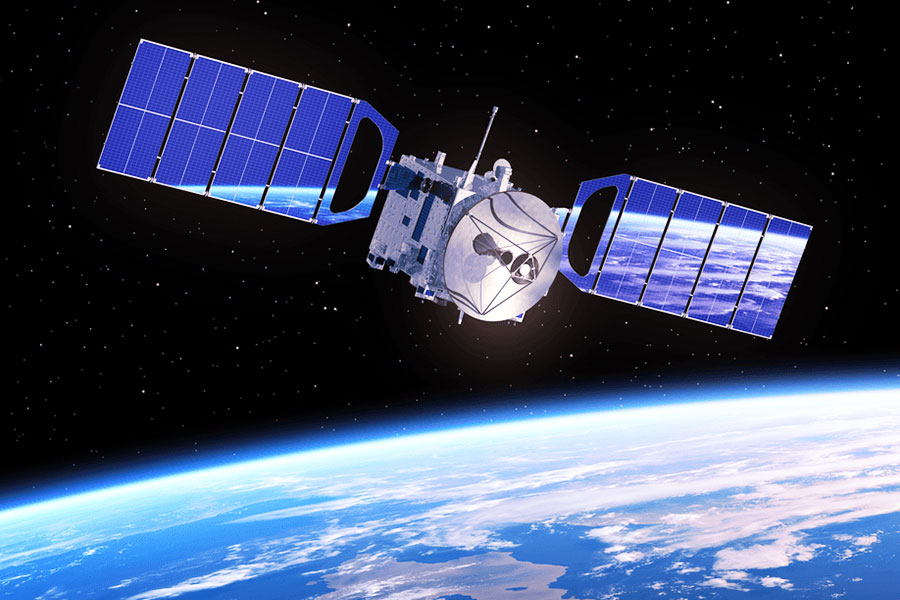 The 21st space race is officially on, and differently from the last century, today's competition is among private companies rather than governments. The nature of the competition has changed as well, and often it's capability and not being first that defines the winner. Nowadays, organizations are deploying entire constellations of satellites in orbit, with the plan to offer broadband Internet connection to most remote areas of our planet. Here, SpaceX's Starlink is officially in the lead, but other US and European competitors are closing in. UK-based OneWeb is one of the 'space Internet' pioneers, along with Elon Musk's Starlink. Let's take a closer look at the Starlink vs OneWeb constellations, and pay close attention to the top features and current progress of both OneWeb and Starlink networks.
What is the OneWeb satellite constellation?
OneWeb is a global communications company working with Japan's SoftBank Group, Airbus Defence and Space, and, as of spring 2022, Elon Musk's SpaceX. Since March 2020, the company has been gradually deploying its fleet of 648 planned satellites for high-speed Internet access in Low Earth orbit. OneWeb experienced several setbacks, and even announced bankruptcy during the COVID crisis, but now seems to be back on track with its Internet constellation plans for IoT providers.
What is Starlink constellation?
Elon Musk's Starlink project has been around since 2018 and, initially, envisaged deploying a total of 12,000 satellites in LEO. A year later, though, Starlink project was expanded to include up to 30,000 more satellites for improved connectivity from all corners of the world. Eventually, Starlink services should allow anyone to connect using a simple ground receiver.
OneWeb vs SpaceX constellations in detail
While both OneWeb and Starlink plan to offer broadband Internet connectivity to a wide range of audiences, their LEO constellations will not be the same in terms of technologies, target markets, and, of course, the number of satellites. Let's take a look at the top OneWeb Starlink differences and similarities below.
OneWeb vs Starlink: mission & target audience
The primary difference between OneWeb and SpaceX is the target user of each network. While Starlink intends to make its services available to all users, OneWeb is targeting business customers dealing with Internet of Things projects. Both OneWeb and Starlink do plan to offer broadband Internet from space to consumers worldwide. However, while Starlink sells its services to consumers directly (B2C model), OneWeb will use IoT private companies as intermediaries (B2B model).
How OneWeb vs Starlink operate?
OneWeb satellites compared to the Starlink network will have minor differences in operational frequencies, with OneWeb slightly lower than those of Starlink. OneWeb uses Ku-band antennas, while Starlink has larger frequency coverage, including Ku-, Ka-, and E-band phased array antennas. In the long run, however, this OneWeb vs Starlink difference will have little effect on Internet speed and latency. For example, Starlink can already ensure 50Mb/s to 150Mb/s speed with latency from 20ms to 40ms in most locations. In contrast to that, the OneWeb speed is even higher — 165 Mb/s with a slightly higher latency of 45 ms (as of April 2021 test). Its 2019 speed test was more impressive, reaching 400 Mb/s. In terms of satellite mass, the OneWeb vs Starlink comparison continues — with OneWeb sticking to 150 kg spacecraft while Starlink uses satellites ranging from 227 to 295 kg in the latest versions.
How OneWeb and SpaceX satellites orbit: altitudes
OneWeb satellites are deployed at 1,200 kilometres (745 miles) altitude, which is much higher than Starlink's 550 kilometres (340 miles). This difference in altitude may explain OneWeb's slightly higher latency rate compared to Starlink. Besides, it also implies that OneWeb satellites, when launched, will have to pass through the already operational Starlink constellation. Still, both remain in LEO, and despite the altitude differences, both Starlink and OneWeb ensure more or less the same speed and coverage.
Offered services & prices: Starlink vs OneWeb
OneWeb plans to charge its customers around $1,000 to $1,500 per month for using its terminals. Starlink prices include a $99 starting fee and an additional $99 each month. Still, it is important to remember that Starlink will be selling directly to consumers, while OneWeb is offering its Internet terminals to IoT companies. So, the cost for the end user will be lower for OneWeb clients.
Amount of satellites in orbit and planned to launch
Right now, it is not exactly clear how many satellites will comprise the Starlink constellation, but once all necessary permissions are obtained, Starlink may well reach 42,000 devices. As of June 2022, Starlink already had 2,404 satellites in orbit and had permission to launch a total of 4,408. So, while it is still a long way to go to reach Starlink's goal of 42,000 devices, half of the currently allowed spacecraft are fully functional and already orbiting our planet.
In contrast, OneWeb currently has permission to deploy 648 satellites, out of which 427 are already in orbit. However, the company does not plan to stop there and eventually hopes to expand its network to a total of 7,000 satellites.
When will it be available?
Starlink is already available in US and Canada, as well as several European countries between 44 and 53 degrees North latitude. By the end of 2022, SpaceX expects worldwide Starlink coverage. OneWeb also launched commercial services above 50 degrees North and plans to offer full globe coverage by the end of 2023. Summing it up, let's take a look at the side-by-side comparison.
| | | |
| --- | --- | --- |
| | OneWeb | Starlink |
| Business Segment | B2B | B2C |
| Internet speed | 150-400 Mb/s | 50-150Mb/s |
| Orbital altitude | 1200 km | 550 km |
| Prices | $1000-1500/month | $99/month + $99 first user fee |
| Deployed satellites | 427 | 2,404 |
| Planned satellites | 7,000 | 42,000 |
| Worldwide availability | late 2023 | late 2022 |
OneWeb vs Starlink Comparison
OneWeb SpaceX Partnership Caused by Russian War against Ukraine
Spring 2022 brought unexpected news — UK-backed OneWeb would use SpaceX rockets for deploying its Internet satellites in LEO. Initially, OneWeb had a launch contract with the Russian space agency Roscosmos. However, this collaboration came to an end after Russia's broad-scale military invasion of its neighbour, Ukraine.
The invasion led most Western countries to apply a series of increasingly stricter sanctions on the Russian government, organizations, the space industry, and private individuals. Russia replied with 'sanctions' of its own, scrapping deals and demanding that the UK government sell its stake in OneWeb. More importantly, Roscosmos demanded that the UK 'swear' to the non-military use of OneWeb satellites, which the UK authorities, obviously, ignored. 
Dmitry Rogozin, then-head of Roscosmos, erupted in a series of provocative social media posts, mocking the OneWeb Starlink collaboration and wishing the larger company bon appétit while digesting its rival. Following Rogozin's empty threats of cancelling ISS cargo deliveries, also overtaken by SpaceX, it now becomes obvious that the joke was on Roscosmos rather than OneWeb and Starlink.
This tension led to a seemingly unexpected partnership between OneWeb and SpaceX. However, at a closer look, it becomes obvious that the collaboration is not that surprising because the orbital Internet niche has room for more than OneWeb and Starlink constellations. In fact, new players are already emerging, and there is reason to believe even more will soon come.
Are There Any Other OneWeb and Starlink Rivals?
While OneWeb is to use SpaceX rockets after Russia's invasion of Ukraine, which seems like an end to one rivalry, there are more notable Starlink competitors today. Perhaps, the most prominent one is Viasat, which, according to Bloomberg, already has 590,000 subscribers against Starlink's 500,000 and can ensure a maximum download speed up to 100Mb/s, which is somewhat inferior to SpaceX.
Another emerging player to compete with Starlink is Amazon's Project Kupier, which includes plans to deploy 3,236 satellites that should ensure up to 400 Mb/s connectivity. While it is too soon to speak about costs and availability, we can assume that relations between Kupier and Starlink will be less friendly than those of Starlink and Oneweb, considering the long-standing rivalry between SpaceX and Amazon/Blue Origin founders Elon Musk and Jeff Bezos.
Another promising company is Canada's Telesat, which already operates 15 geostationary satellites and is a strong Starlink competitor. Its upcoming constellation, Lightspeed, should include 1,600 LEO satellites and, considering the company's established experience in space telecommunications, there is no doubt that we will see this project implemented by late 2024, according to Telesat itself.
In China, Starlink may eventually see Geespace on its horizon. Geespace hopes to build a constellation of 240 Internet satellites. The EU may also be joining this race after three EU-commissioned companies carry out a technical study for a potential European Internet constellation.
All in all, it seems that we are about to enter the age of orbital Internet, which could potentially make fiber connectivity a thing of the past. And, while right now, it may seem that orbital Internet competition is rising, it is obvious that this market has room for several players, not just Starlink and OneWeb. The project scale alone is enormous and it is very unlikely that a few companies will fully monopolize this market. However, the space Internet pioneers do have first-mover advantages already, and it looks like we already know the most promising players for the foreseeable future.