Successful Falcon 9 Rocket Launch from SpaceX as Part of NASA's ISS Mission
20th May 2022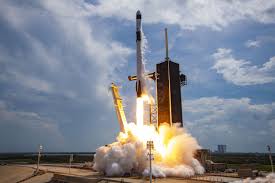 On 27th April, SpaceX's Falcon 9 rocket launch gave a start to a manned Crew-4 mission to the ISS – just two days after NASA wrapped up its first private astronaut mission. Both missions come after Roscosmos's announcement about delaying their collaboration with NASA on all ISS missions.
NASA's First Private Astronaut Mission to the ISS
NASA's first private astronaut mission to the ISS carried three wealthy tycoons onboard the SpaceX Crew Dragon capsule. As of now, all space tourists are safely back to Earth. The tour that lasted a total of 17 days cost $55 million each. Originally, the trip was supposed to carry on for seven days instead of 17, but the weather interfered. Since the SpaceX capsule is designed to splash down in the ocean, space travellers had to wait before the seas calmed down.
Return of the Crew-3 Mission
One of the latest ISS tourists, Larry Connor, described the NASA-ISS mission as amazing. However, this trip was not the first one. Last autumn, Russia already opened three ISS hatches for the first tourists and even made a film celebrating this event. Shortly after that, a Japanese fashion mogul visited the ISS along with his assistant.
Each tourist mission to the ISS has been accompanied by professional astronauts, and the latest NASA mission was not an exception. A former NASA astronaut, currently employed at a Houston company Axiom Space, escorted the latest ISS visitors.
Latest Crew-4 Mission from SpaceX
Two days after the rich businessmen safely returned to Earth, SpaceX carried out another Falcon 9 rocket launch from Launch Complex 39A at the Kennedy Space Center. Astronaut Kjell Lindgren commanded NASA's Crew-4 mission, while Bob Hines served as a pilot. Mission specialists included professionals both from NASA (Jessica Watkins) and the ESA (Samantha Cristoforett).
The Crew Dragon spacecraft, Freedom, reached orbit 12 minutes after the Falcon 9 rocket launch. The previous spacecraft, Endeavour, undocked less than 36 hours before Freedom took off. According to NASA and SpaceX officials, the minor docking-undocking gap posed no additional challenges for the Crew-4 mission.
At the same time, NASA and SpaceX had to squeeze their mission between Russian astronaut spacewalks; even though Roscosmos announced its decision not to collaborate on the ISS missions any longer, several Russian astronauts remain on the ISS. Still, despite growing geopolitical tensions, things seem to run more or less smoothly aboard the ISS, and the official welcoming ceremony took place as usual.
The Crew-4 mission is the fourth successful Falcon 9 rocket launch to the ISS, soon to be followed by Crew-5. The fifth mission will use Endurance spacecraft that has already been successfully implemented in the Crew-3 mission. So, despite the growing tensions between Roscosmos and NASA following the world's space sanctions, the ISS missions continue without delay, and SpaceX plays a major part in this development.