Elon Musk Threatened by Roscosmos Chief for Ukraine Deliveries
10th May 2022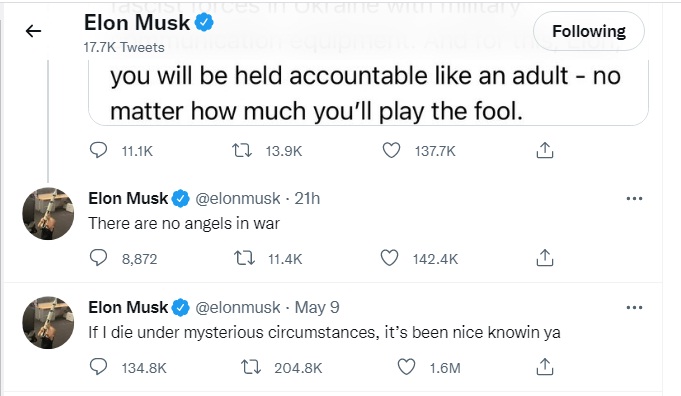 SpaceX and StarLink CEO Elon Musk tweeted on 9th May that Dmitry Rogozin, the head of Russia's Roscosmos space agency, had threatened him. Rogozin had sent out a statement to Russian media over the weekend claiming that StarLink satellite communications equipment had been sent by military helicopter to Ukraine's Azov fighters under siege in Mariupol, Ukraine.
The Russian-language statement and a translation were posted by Musk. It reads that for his sending of the satellite transceiver units, Musk would be "held accountable in an adult way."
Musk later tweeted that if he were to die under mysterious circumstances, that it's been nice knowing us:
The Musk – Rogozin sparring began with the rise of SpaceX, and company's draining of launch clients away from Roscosmos has been tremendous. According to Statista, SpaceX had almost 25% of the small sat launch market share in 2020, and growing.
Even before the Russian large-scale invasion of Ukraine in 2022 throttled back western satellite launches on Russian rockets, Roscosmos' slower launch cycle, lower launch success rate and higher costs compared to SpaceX gave grounds for the animosity.
Starlink ups the ante
However, Musk has shown more than a willingness to assist in the defense of Ukraine, and Starlink employees have impressed the Pentagon with their ability to fend off Russian electronic warfare attacks. Speaking at the C4ISRNET Conference on 20th April, Dave Tremper, Director of Electronic Warfare for the Office of the Secretary of Defense, related a story about how he saw Starlink handle Russian jamming attempts earlier in the month.
According to Military Times, Tremper said that,
"The next day [after reports about the Russian jamming effort hit the media], Starlink had slung a line of code and fixed it. And suddenly that [Russian jamming attack] was not effective anymore. From [the] EW technologist's perspective, that is fantastic … and how they did that was eye-watering to me."
Musk's tweet of Rogozin's threat and the translation follow: