Bloody Space: Why Sanctions Against Russia Matter for the Space Industry
29th Mar 2022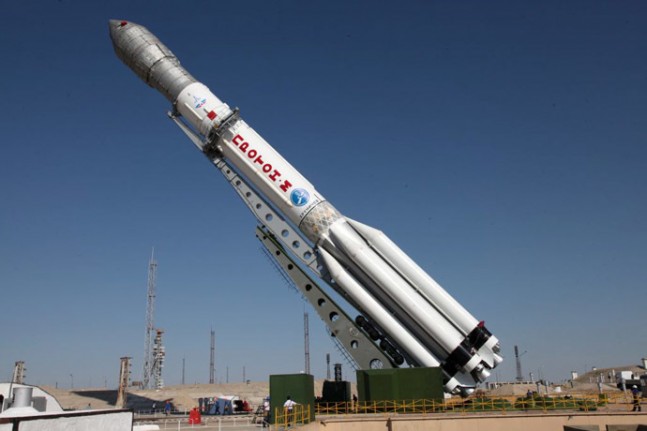 The war in Ukraine started by Russia has become a leading topic on the global agenda since late February. The global community's response to the bloody events in Ukraine took the form of unprecedented restrictions imposed by governments and private businesses on Russia. The space industry is not an exception. Space companies have experienced unparalleled sanctions set by the collective West on Russia.
Who Has Already Refused Any Russian Space Involvement?
With Russian aggression gathering momentum, companies in the space industry followed a general trend and started suspending projects with Russia or the use of Russian launch services. British-Indian OneWeb was one of the first space companies hit by the war when Russia cancelled the launch of OneWeb satellites on the Russian Soyuz rocket. They required the British government to sell its stake in the company and not to use satellites for military purposes. However, OneWeb found a replacement for the Soyuz rocket in just a couple of weeks. They have reached an agreement with SpaceX – a competitor not only to Soyuz but also to OneWeb. This is an example of cooperation no one could have thought possible.
Europe led by the European Space Agency has also halted several projects with Russian participation. ESA has already announced the suspension of its ExoMars programme and is now exploring other ways to keep it going. The problems have also been caused to the potential launches of Galileo satellites for ESA, which should have taken place on Soyuz rockets from the spaceport in French Guiana. Now ESA is considering its Ariane 6 rocket to conduct further launches.
Sweden, which is also a part of ESA, has cancelled the launch of its research satellite on the Soyuz rocket scheduled for late 2022. The launch had to take place from Vostochny cosmodrome, which is something Sweden refers to as unthinkable under current circumstances. Meanwhile, German DLR aerospace has switched off its eROSITA telescope aboard the Russia-built Spetr-RG satellite orbiting Earth as no cooperation with Russia is now possible.
And it's not only European and US countries that look for alternatives to launches on Soyuz rockets. Among others, Japanese Synspective and Axelspace and Korean space projects might have to look for alternative ways to deliver payloads into space. And with the fierce competition in the space industry observed globally, new space startups offering launches will win in this situation.
The War That Started in 2014
Actually, February 2022 wasn't the first time Russia neglected all international laws and attacked Ukraine. Back in 2014, Russian Federation annexed the Crimean peninsula and occupied a part of Eastern Ukraine. Sanctions followed, but the sanctions didn't touch the space industry at that time. At that moment, the US and European space industries were too dependent on Russia to impose severe sanctions on the space industry.
NASA didn't have its own shuttle to send people into space, and they delivered Americans to ISS on a Russian Soyuz rocket. Since ISS is an international programme, Americans and Russians should not stop cooperation. Another strategic American programme Atlas 5, delivering cargo into space, for military purposes as well, used Russian RD-180 engines. European countries also were actively using Russian launch capabilities, so the space industry didn't witness sanctions.
How It's Different in 2022
Currently, the situation is different. The European space industry has been working to decrease reliance on space technologies from post-Soviet countries throughout these years. Arianespace cooperated with Russia to launch Soyuz rockets, and Vega used Ukrainian engines for its upper stage. But during the last couple of years, ESA has initiated a range of projects to support the development of European launch capabilities. They include grants to Hyimpulse Technologies, Rocket Factory Augsburg and Isar Aerospace in Germany, as well as British Skyrora and Orbex.
The US space industry is also more independent now. American astronauts are flying Crew Dragon ship developed by SpaceX. There have been programmes to develop replacements for Russian engines. NASA has also financed the establishment of private space stations. Among other projects, ULA has noted that they have sufficient RD-180 engines while still preparing for transfer to the Vulcan Centaur launch system.
Why Space Sanctions against Russia Matter
The space industry strongly relies on high-tech solutions that can widely be used in military conflicts. The asymmetric war started by Russia back in 2014 has shown that space technologies are an essential aspect of military operations on Earth. During the military campaign, Russia actively utilised prevailing space technologies.
When annexing Crimea, Russians resorted to GPS jamming and spoofing, which allows setting military aircraft, ships and rockets off course and not allowing them to reach the destination. Now, Russia continues increasing its space capabilities. Rogozin even stated that the next Russian space station would be practically-military and would be used to practise specific technologies.
Without sanctions on the Russian space industry, Russia had an opportunity to explore international technologies used on the satellites launched on the Soyuz rocket. OneWeb, Arianespace, European Space Agency, and Sweden have already refused from launches on Soyuz. Other than decreasing the risk of technologies being spied on by Russians, such measures offer another benefit.
The introduced space sanctions aim to cut the profits that the Russian space industry is bringing to the budget and respective expenses that Russia can spend on weapons to continue the war. According to some estimates, delivery of NASA astronauts to the space station cost about $400 million or more annually, while the sale of 101 RD-180 engines to Lockheed Martin brought $1 billion. In addition, every Soyuz launch costs around $35-48 million per launch.
As of 2021, the reported revenue of Roskosmos and its enterprises responsible for space flights, cosmonautics programs, and aerospace research constituted 337 billion rubles ($4.5 bln) in 2020. That is just around 1% of the total space economy as of 2020 ($447 billion). As a result of further losses related to commercial launch contracts and exclusion of Russia from international projects, that is likely to get completely decimated, which will be a huge blow to the country's finances. It seems now that Russia will have to look for other ways to fund its missile programme now that the world abandons Russian launch capabilities.
At the same time, it is questionable if Russian industries, the space industry, in particular, can survive without foreign supplies and components. Despite loud claims of their ability to replace the products that fall under sanctions, also in space industry the reality is a bit different. It has already been evident in the aerospace industry when Boeing and Airbus suspended their activities in Russia and announced halting supplies of parts to Russia. Or in other industries, after an announcement that the ban of semiconductors from Taiwan could turn into a disaster for Russia.
We will see how the situation in Ukraine unfolds and what other changes it will cause to the space industry. And for those who are unwilling to finance the war in Ukraine, it is high time to follow numerous examples and stop working with Russian businesses.