Virgin Orbit Rocket Drop – Smart and Cheap Technology
8th Jul 2020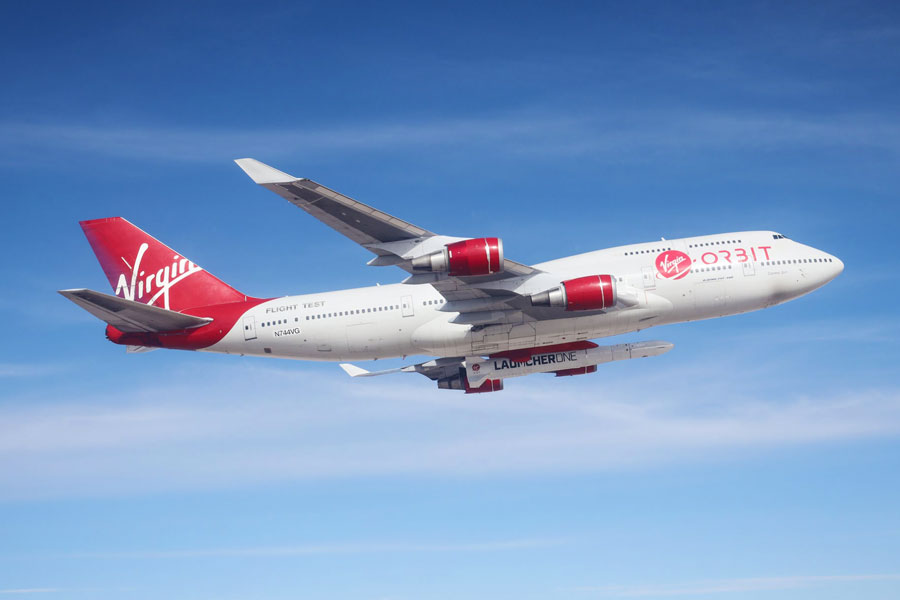 The Orbital launch industry is gaining momentum, and privately owned technologies, including Virgin Orbit rocket drop, contribute to this. With the rapid development of the private space sector, more aerospace companies keep appearing – one after another. They try to attract clients with their unique offerings: innovative technologies, the latest developments, lower prices, broad range of services, or all of those things combined. SpaceX is the undisputed leader in the private launch industry. However, even its possibilities are somewhat limited, which gives young startups with favourable offers a chance to leap ahead in the big space race.
From Space Tourism to Small Satellite Launches
Although Virgin Orbit is only three years old, it would be unfair to call the team inexperienced. The company was formed from a creative department of a fairly large private space giant and a direct SpaceX competitor — Virgin Galactic. The ideological mastermind and owner of the Virgin Corporation, British billionaire Richard Branson, has taken a slightly different path to Elon Musk and has been focusing on space tourism.
Today, Virgin Galactic is close to sending the first tourists into orbit, and there has long been a queue for tickets to board the SpaceShip. However, the ambitious Branson could not ignore a promising niche for delivering payloads into orbit, especially seeing the successes of SpaceX.
In the last ten years, the market for small satellites and CubeSats has been growing rapidly. Today, it is possible to abandon large and expensive launch vehicles and reduce the cost of putting 1 kg of cargo into orbit almost two times. Developing a light vehicle and getting it ready for launch is much cheaper, while such a carrier can still carry from several units to several tens of small satellites. Perfect logistics, one may say. But there is more.
Air Launch vs. Ground Launch
Not used to being an outsider, Branson decided to adopt a promising launch technology that could allow him to get around most competitors in the shortest time possible. The thing is, almost all operator companies use a traditional vertical launch technology. The vehicle independently starts from a specially-equipped ground platform.
With a horizontal (air) launch, the rocket is attached to the wing of an aircraft, which takes off to a height of 33 thousand feet, after which it releases the rocket. It is separated from the wing, turns on its engines, and starts its journey into space. In the meantime, the aircraft uses fuel balancing. Besides, Cosmic Girl, as Branson called his Boeing 747-400, went through some additional modifications. Developers completely removed all equipment from the passenger compartment, leaving only the command centre in the first class section for the launch team. After releasing the rocket, the aircraft remains steady, and heads back to its base.
Advantages of Virgin Orbit rocket drop:
Launch preparation simplicity and speed — a specially equipped launch platform with complex infrastructure is unnecessary; only a modified aircraft and a suitable runway are needed.
Low rocket fuel consumption — since the rocket lifts off from a height of around 30 thousand feet, it only needs fuel when separating from the aircraft. Vertical launch vehicles spend tons of fuel before reaching the upper atmosphere.
Relative launch site independence — any airport with a suitable runway can act as a launch site.
Even though Virgin Orbit rocket drop technology is not new and has been used since the post-war era, only Northrop Grumann managed to achieve really reliable results with a minimal number of unsuccessful launches with its military project Pegasus. But their rockets are launched from fighter jets, carry a very small payload, and call for astronomical budgets.
LaucherOne — Flight to the Future
Virgin Orbit LauncherOne vehicle will launch up to 300 kg weight of payload to solar-synchronous and polar orbits, at a pre-set price of $10 million. In comparison, RocketLab company offers the cheapest vertical launch at just $6 million. However, its vehicle can carry only 150kg, while launch preparation takes almost three times as much as Virgin Orbit plans to offer. Today, Branson's company has already reached the final stage of its Virgin Orbit rocket drop tests and plans to start commercial launches by the end of 2021