Orbex Space rocket launch mission set for 2022
16th Mar 2020
British aerospace startup, Orbex Space continues to develop its ultralight eco-friendly Prime launch vehicle. Last year, the company introduced a non-operational prototype of the second stage with an engine made using 3D printing technology. The engine design has been created in 'one piece', without separate connecting parts. According to Orbex, it is the only engine of this size currently in the UK produced entirely on a 3D printer.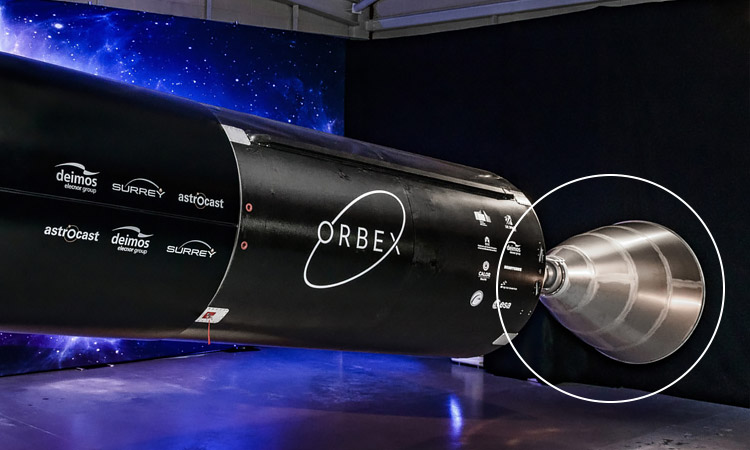 What makes Orbex Space Prime Rocket special?
The Prime rocket will be able to launch up to 300 kg of payload into solar-synchronous and polar orbits (up to 1250 km high). Its body is made of carbon and aluminum, which makes the vehicle 30% more efficient than its closest competitors. Prime will also run on biopropane-based renewable fuel, which, according to the company, will make rocket launches 90% more environmentally friendly.
Orbex Space has already signed several contracts with satellite manufacturers and launch brokers. The first device to lift off from Prime in 2021 will be an experimental satellite from the British company Surrey Satellite Technology Ltd. (SSTL). A year later, the rocket will launch 64 nano-satellites from the Swiss company Astrocast SA into orbit. This launch will be part of a project to create a global Internet network.
A suggested launching site will be one of the first British spaceports. Its construction will soon start in Sutherland, Scotland. The region has all the necessary geographical features for an effective launch – it is above the sea level and is quite far from any residential areas. The Sutherland launch site could become the first and largest spaceport in Europe.
Currently, most countries within the European Space Agency, including the UK, use spaceports outside of Europe: Baikonur in Kazakhstan, Kourou in South America, and Cape Canaveral in the United States. In the next few years, this situation will change dramatically when the UK builds several launch sites on its territory. That is something many British startups, Orbex Space included, are waiting for.